USD 10 M Bounty On Hafiz Saeed For Mumbai Terror Attack, Says US
Washington, Apr 4: The decision to announce a USD 10 million bounty on Lashkar-e-Taiba founder Hafiz Saeed is primarily due to his key role in the 2008 Mumbai terrorist attack, the US said Tuesday, asserting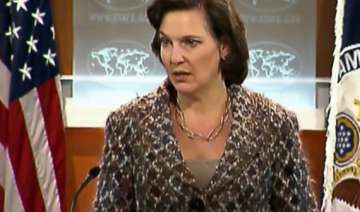 PTI
April 04, 2012 7:52 IST
Washington, Apr 4:
The decision to announce a USD 10 million bounty on Lashkar-e-Taiba founder Hafiz Saeed is primarily due to his key role in the 2008 Mumbai terrorist attack, the US said Tuesday, asserting that Washington wants to see him brought to justice.
"It (bounty) has everything to do with Mumbai and his brazen flouting of the justice system," State Department spokesperson Victoria Nuland told reporters here.  "It (bounty) is because we want to see him brought to justice," she asserted, and referred to the fact that Hafiz Saeed has been charged in India.
She rejected a statement of Saeed in a television interview that the US announced the bounty on his head because he is opposing the reopening of the crucial NATO supply route to Afghanistan, which was shut down by Pakistan on November last yeer when 24 of its soldiers were killed in a NATO cross border fire.
Nuland also refuted the Pakistani claims that they have not been informed about it.
"We have been in communication with Pakistan on this issue," she said at her daily news conference.  Pakistan's Interior Minister Rehman Malik today claimed in Islamabad that his country had not received any "official communication" from the US about the USD 10 million bounty offered for Saeed.
The bounty was announced by US Under Secretary of State for Political Affairs, Windy Sherman, during her trip to India, a day earlier.
Nuland said the bounty on Saeed was approved by Secretary of State Hillary Clinton herself after all the necessary process was completed spread over past several months.
"This effort to arrange rewards for trust bounty forHafiz Muhammad Saeed and also for Abdul Rehman Makki has been in the works for quite a number of months. These things are somewhat complicated to work through all of the details.  So the announcements were only able to be posted when the process was complete, but we've been working on this for some time," the spokesperson underlined.