Venezuela collects signatures against US decree
Caracas: Venezuelan President Nicolas Maduro said over 10 million people have signed a petition against a US decree that labels the South American country a national security threat.On March 9, Obama signed a decree stating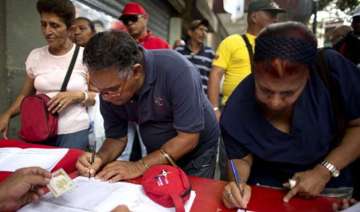 IANS
April 10, 2015 11:00 IST
Caracas: Venezuelan President Nicolas Maduro said over 10 million people have signed a petition against a US decree that labels the South American country a national security threat.
On March 9, Obama signed a decree stating "the situation in Venezuela... constitutes an unusual and extraordinary threat to the national security and foreign policy of the US and I hereby declare a national emergency to deal with the threat".
The announcement came on Thursday before the seventh Organisation of American States (OAS) Summit, which begins on Friday in Panama City, Xinhua reported on Friday.
Maduro said a total of 10.42 million signatures will be delivered to Obama during the summit.
Maduro designated March 9 as 'Bolivarian Anti-Imperialism Day'.
Venezuela-US ties have deteriorated over the last few months.
Maduro accused Washington of working with local opposition to stage a coup to topple him, but the US called the accusation "ridiculous".