Worldwide outrage as Saudi blogger Raif Badawi recovers, to get remaining 950 lashes
Jeddah: Even as there is outcry among netizens all over the world after a Saudi Arabian blogger Raif Badawi was given 50 out of the prescribed 1,000 lashes, the young man is still recovering.On last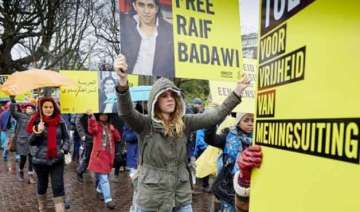 India TV News Desk
January 22, 2015 16:53 IST
Jeddah: Even as there is outcry among netizens all over the world after a Saudi Arabian blogger Raif Badawi was given 50 out of the prescribed 1,000 lashes, the young man is still recovering.
On last Friday, Jan 16, Raif Badawi was to get the second instalment of 50 lashes, but a doctor declared that his "wounds (from the previous week) had not yet healed properly and that he would not be able to withstand another round of lashes at this time."
Saudi Boumedouha,  deputy director of Middle East and North Africa for Amnesty International, reacted: "The notion that Raif Badawi must be allowed to heal so that he can suffer this cruel punishment again and again, is macabre and outrageous."
Blogger Raif Badawi had his blog website Free Saudi Liberals shut down by Saudi authorities in 2012 for criticizing and questioning the ultra-conservative religious establishment. He was sentenced to 1000 lashes, 10 years in jail and a fine of Rs 1.6 crore ($260,000).
The crime: Thirtyone-year-old Raif Badawi had called for separation of Muslim Ulema from the state, and he had rebuked Muslims who lobbied for the right to open a mosque near Ground Zero in New York.
Badawi was taken into custody on January 9 after Friday mosque prayers, and a man in uniform gave him the first 50 of the 1000 lashes with a wooden cane.
On paper, the person who gives the lashes is required to move up and down the victim's back and take care not to break the skin, but the lashes given to Badawi were extremely harsh.
Badawi's father went on Saudi TV to renounce his son, but his wife, Ensaf Haidar, has sought political asylum in Montreal, Canada, along with her three children, Terad, Najwa and Miriam.  
"Raif told me he is in a lot of pain after the flogging, his health is poor", she told Amnesty International.
"I told our children about the news last week so that they would not find out about it from friends at school. It is huge shock for them. International pressure is crucial. I believe if we keep up the support it will eventually pay off", said Ensaf Haidar.
Canda, Germany, Norway and the United States have called for an end to the 'brutal' sentence.
In another instance, inline with Shariat law, a Burmese woman, Laila bin Abdul Mutalib Basim, was dragged through the streets, held down by four policemen, and an executioner beheaded her with the sword with three blows, even as the woman screamed 'I didn't kill, I didn't kill'.