World Mourns The Victim of Dhaka's Long Night Of Terror!
04 Jul 2016, 19:15:31
Prev
Next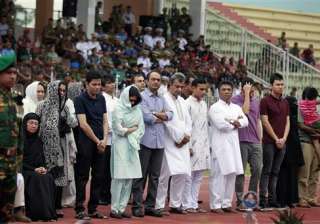 The entire world was taken aback after a terrorist attack shook the capital city of Bangladesh, Dhaka. Nine Italians, seven Japanese, one Indian, one Bangladeshi American and two Bangladeshis were among the 22 killed in the terror attack at Holey Artisan Bakery in Gulshan on Friday night. After a 12-hour siege commandos rescued 13 people. Two police officers died and 30 others were injured, whereas six attackers were killed in the raid at the restaurant. The brutality of the attack, the worst convulsion of violence yet in the recent series of deadly attacks to hit Bangladesh, has stunned the traditionally moderate Muslim nation and raised global concerns about whether it can cope with the increasingly strident Islamist militants. Indeed, it is a hard time for the families of the victims who lost their loved and dear ones in the terrorist attacks. Here's a look at the families of the victims paying their last tributes to the deceased.