10 questions that UP police asked rape-accused SP leader Gayatri Prajapati
India TV Politics Desk
Lucknow
15 Mar 2017, 16:00:26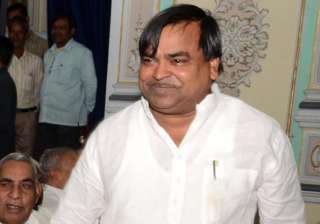 After days of hide and seek, gang-rape accused Samajwadi Party leader Gayatri Prajapati was finally arrested in Lucknow early this morning. 
Absconding since February 27, Prajapati was arrested in from the Aashiana area of the city by a joint team of the Special Task Force (STF) and the local police. 
During preliminary questioning, Prajapati told the police that to evade action against him, he spent his time in West Bengal and some southern states.
Later, he was produced before the POCSO Court, which sent him to 14-day judicial remand.
Here is the list of 10 questions that police asked him: 
1. Why you were escaping from police for so many days?
2. If you were innocent, why didn't you present your side before the investigating officer through any medium? 
3. What's you take on the allegations levelled by the victim? 
4. For how long have you known the victim and her daughter? Have you ever called her at your Lucknow residence? 
5. With whom you were in contact during the absconding period? Who helped you? 
6. During the absconding period, you were in touch with other accused? Have you helped them?
7. How and where you met your family members and advocate? 
8. During absconding time, at what places you lived? From whom you sought help to take shelter? Also provide us the details of hotels. 
9. Why you avoided surrendering before the Lucknow police despite knowing that all accused were getting nabbed by the police? 
10. Any bureaucrat and politician helped you? 
Prajapati has been charged with raping a woman and also attacking her young daughter. As per the FIR lodged against him and six of his accomplices at the behest of the Supreme Court, all seven are booked under various sections of the IPC and The Protection of Children from Sexual Offences Act (POCSO Act).