After hunger strike, Kapil Mishra to approach CBI, CBDT against Kejriwal today
Sacked Delhi minister Kapil Mishra will today approach the Central Bureau of Investigation (CBI) and Central Board of Direct Taxes (CBDT) to file corruption charges against Delhi Chief Minister Arvind Kejriwal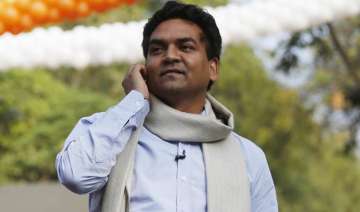 India TV Politics Desk
New Delhi
May 16, 2017 10:55 IST
A day after ending his indefinite hunger strike, sacked Delhi minister Kapil Mishra will today approach the Central Bureau of Investigation (CBI) and Central Board of Direct Taxes (CBDT) to file corruption charges against Delhi Chief Minister Arvind Kejriwal. 
Meanwhile, Mishra this morning tweeted that the Delhi CM should have thought once before betraying the nation. 
आज समय के पहिये का एक चक्र पूरा हुआ। @ArvindKejriwal क्या करने आये थे और क्या क्या करते पकड़े गए। देश से धोखा करने से पहले एक बार सोच लेते pic.twitter.com/JJGAsZNSyv

— Kapil Mishra (@KapilMishraAAP) May 16, 2017
Attacking Kejriwal, Mishra said that the "foundation laid on lies was rattled. And hence those who spread lies were hiding inside their houses". 
"The people with black money are unable to understand the request of truth," he said. 
Soon after being discharged from Ram Manohar Lohia Hospital yesterday where he was admitted after he had fainted at a press conference on Sunday, Mishra said he would go to the offices of the CBI and the CBDT on Tuesday.
"Doctors won't discharge until I start taking liquids. I have to go to CBI and CBDT. starting on liquids now," Kapil tweeted. 
"Tmrw case of Hawala, Black Money, Money Laundering & Operating thru shell companies will be filed in CBI & CBDT against Arvind Kejriwal Ji," he added. 
Mishra reiterated his demand for foreign travel details of Aam aadmi Party (AAP) leaders including Sanjay Singh, Ashish Khetan, Satyendar Jain, Raghav Chaddha and Durgesh Pathak.
Asking Kejriwal to resign from Delhi CM post, Mishra threatened to drag Kejriwal by collar if he failed to do so.
"Either he should resign, or I will drag him by his collar to Tihar jail," Mishra said before dramatically fainting at the press conference.
The sacked Water Minister had been on an indefinite hunger strike since May 10, at his official residence here, demanding that the Delhi Chief Minister must reveal the source of funding of the foreign trips of five AAP leaders -- Sanjay Singh, Ashish Khetan, Raghav Chadhha, Satyendra Jain and Durgesh Pathak -- in the last two years.
A day after Mishra was sacked on May 7, he alleged Kejriwal of taking Rs 2 crore bribe from Delhi's Health Minister Satyendar Jain. Mishra was suspended from the party on May 8.