Akhilesh Yadav plans to start state's own TV news channel ahead of UP elections
Uttar Pradesh Chief Minister Akhilesh Yadav is planning to start Samajwadi Party's own TV news channel, a move that may benefit his government ahead of the state assembly elections. According to the reports, the Samajwadi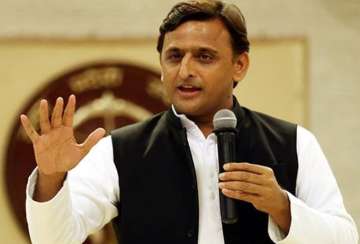 India TV Politics Desk
New Delhi
December 10, 2016 12:38 IST
Uttar Pradesh Chief Minister Akhilesh Yadav is planning to start Samajwadi Party's own TV news channel, a move that may benefit his government ahead of the state assembly elections.
According to the reports, the Samajwadi government will raise this demand during a meeting of information ministers to be hosted by the Union Information and Broadcasting Ministry in New Delhi today.
UP Minister for Trade Tax Yasar Shah will represent Akhilesh, who holds the information department in the state cabinet, at the meeting that is being convened after nearly 10 years.
With Uttar Pradesh approaching assembly elections in 2017, it seems to be a strategic demand by the government who is making every possible move to maintain its throne in the state.
"UP government officials, tasked by the Chief Minister to push the idea, have already inquired about the possibility of starting the Samajwadi Party government's own channel. But they were informed that state governments and assemblies would not be given such permission," Indian Express quoted sources in the I&B Ministry as saying.
Reacting on this Yasar Shah confirmed the news and said: "I have been informed that the central government does not give permission to state governments to run their own TV news channels. It is a matter of concern. When private and government institutions are granted such permission, why not state governments?"