Furore over Rijiju controversy and currency ban in Parliament, LS adjourned for day
With the government and the opposition at loggerheads over currency ban, parliament has witnessed near-total disruption in the winter session. Bracing for a showdown in Parliament, the BJP and Congress have instructed their members in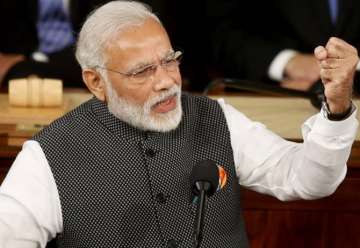 Source: PTI
India TV Politics Desk
New Delhi
December 14, 2016 12:42 IST
With just three days remaining in the Winter session,  a united opposition confronted the Centre over demonetisation and an alleged corruption scandal involving Union Minister of State for Home Affairs Kiren Rijiju.
 The  latest controversy involving Rijiju has cast a fresh shadow over the possibility of any business being transacted in both houses.
The stand-off between the government and opposition over how to debate the notes ban continues. The opposition wants a vote at the end, the government says no. 
The BJP says the PM is ready to speak but the opposition has not allowed him to by disrupting parliament.
Lok Sabha proceedings
Lok Sabha today continued to see ruckus with the Opposition training their guns on the government over the controversy involving Union Minister Kiren Rijiju and the demonetisation issue, forcing adjournment for the day.
Lok Sabha members raised slogans while Kiren Rijiju was making a statement.
Congress vice president Rahul Gandhi arrived in parliament this morning and said, "I am here to speak, let's see if the government allows it." . But the Lok Sabha was again adjourned within four minutes of convening amid slogan shouting.
As soon as the House met for the day, Opposition members, including those from Congress, TMC and Left parties, were on their feet raising demands about certain issues, including the controversy involving Rijiju and demonetisation. 
Some members from the Treasury benches were also on their feet waving papers but both sides were not audible amid the 
din. 
A couple of members from the Left parties trooped intothe Well. 
Among other issues, Opposition members were seen to be raising concerns about alleged misuse of office by Rijiju, who is the Minister of State for Home Affairs, with regard to a power project in Arunachal Pradesh. 
Opposition Congress, Left and DMK today sought immediate sanction a financial package to provide relief to cyclone ravaged Tamil Nadu, a demand which Finance Minister Arun Jaitley said will be considered by the government. 
With the ruckus continuing, Speaker Sumitra Mahajan the proceedings were adjourned till noon. 
Even as the protests continued, one question was taken up during Question Hour. 
Prime Minister Narendra Modi, Congress President Sonia Gandhi, party's Vice President Rahul Gandhi, Home Minister Rajnath Singh and Finance Minister Arun Jaitley, among others, were present in the House. 
Lok Sabha has been witnessing a virtual washout since the Winter Session started on November 16 with the Opposition and the government locking horns over the demonetisation issue. 
Rajya Sabha proceedings
Rajya Sabha was adjourned till 1400 hours following Oppn uproar over controversy involving Union Minister Kiren Rijiju.
Jaitley said the government shares the concerns over the devastation caused by cyclone Vardah in Chennai and surrounding districts. "It is serious crisis." 
While some advance preparation was done by moving the NDRF teams and deploying army columns, the Centre will do whatever is needed to provide relief, he said.