Arunachal Pradesh: CM Prema Khandu suspended from his party along with six others
Arunachal Pradesh has yet again plunged into a political turmoil with state's ruling Peoples' Party of Arunachal (PPA) temporarily suspending chief minister Pema Khandu, deputy CM Chowna Mein and five other legislators from the primary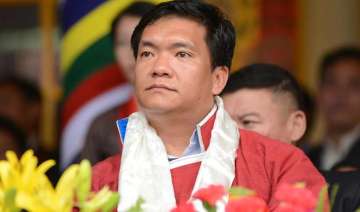 India TV Politics Desk
Itanagar
December 30, 2016 7:25 IST
Arunachal Pradesh has yet again plunged into a political turmoil with state's ruling  Peoples' Party of Arunachal (PPA) temporarily suspending chief minister Pema Khandu, deputy CM Chowna Mein and five other legislators from the primary membership of the party for alleged anti-party activties.
The five other MLAs are Jambey Tashi (Lumla), Passang Dorjee Sona (Mechuka), Chow Tewa Mein (Chowkham), Zingnu Namchom (Namsai) and Kamlung Mossang (Miao).
PPA President Kahfa Bengia, who ordered the suspension on Thursday evening, said prima facie he was satisfied with the proof of their indulgence in gross "anti-party" activities. His order also said Khandu now ceased to be the leader of the PPA Legislature Party.
The PPA is a member of the North East Democratic Alliance, a political coalition formed by the Bharatiya Janata Party along with other regional parties.
Bengia directed party MLAs and PPA functionaries not to attend any meeting called by Khandu, and said any member failing to comply with the order will have to face disciplinary action.
Bengia, in a letter to assembly speaker T Norbu Thongdok, requested him to declare the suspended MLAs as unattached members of the House and arrange separate sitting for them. He also requested the Speaker to communicate the development to the governor.
CM Khandu, who took over from Nabam Tuki in July, sprang a surprise in September by leaving the Congress and joining the state outfit along with 43 MLAs.
PTI inputs