With Gayatri Prajapati still missing, co-accused surrenders before police
A person said to be a close aide of UP cabinet minister Gayatri Prasad Prajapati surrendered before Lucknow Police today.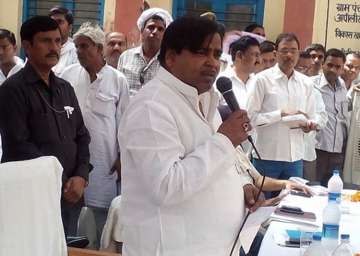 India TV Politics Desk
Lucknow
March 07, 2017 13:10 IST
Uttar Pradesh cabinet minister Gayatri Prasad Prajapati, who is facing charges of gangrape and sexual harassment, is yet to be arrested but a person said to be a close aide of him today surrendered before Lucknow Police. 
Chandrapal, a UP police head constable, is deployed in the security of the minister against whom the Supreme Court recently ordered to file an FIR. 
He is one of the co-accused in the rape case. 
The apex court today refused to entertain Prajapati's plea against its earlier order of filing of FIR against him.
The apex court said that Prajapati could go for legal remedies when a non-bailable warrant is issued. The court added that for now only a FIR has been ordered. 
"Our order is only the registration of FIR, nothing else. Let the police investigate and report to us. We never ordered arrest. If an NBW (Non-Bailable Warrant) is issued, you have your remedies," the court told the lawyer of Prajapati. 
Earlier, the apex court had directed the Uttar Pradesh Police to file a status report in the case within a period of eight weeks. 
On Saturday, passport of the rape-accused UP minister was impounded, a look-out notice issued and airports alerted. The UP Police had claimed that it was conducting raids across the state to trace the absconding minister.
The UP Police has registered an FIR against Prajapati for allegedly gang-raping a woman and molesting her minor daughter with his aides. The FIR was filed recently following a directive of the Supreme Court.
Yesterday, Governor Ram Naik asked Chief Minister Akhilesh Yadav  why the tainted minister had not been sacked.
"A non-bailable warrant has been issued against Prajapati after an FIR was registered against him in rape case. Serious question of constitutional morality and dignity arise on his remaining in the cabinet," the Governor said in a letter to Akhilesh seeking his "justification on retaining the minister".