Bihar IAS officers' stir: Nitish hints at 'landmark action' against protesting bureaucrats
Bihar Chief Minister Nitish Kumar on Wednesday said that no innocent would be implicated but anyone found responsible will not be spared either.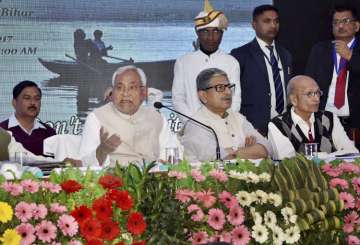 Source: PTI
India TV Politics Desk
Bhawanipatna
March 01, 2017 12:37 IST
Taking a tough stand on the stir by Bihar bureaucrats over the arrest of former BSSC chairman Sudhir Kumar in connection with a job scam, Chief Minister Nitish Kumar on Wednesday said that no innocent would be implicated but anyone found responsible will not be spared either. 
"We expect the SIT not to be influenced by statements or pressures. They should conduct unbiased investigation, and should not spare anyone found responsible. Nor should they implicate anyone who is innocent," Nitish Kumar said was quoted as saying by the Times of India.
"Everyone is equal before law. No action is taken on face value," the Chief Minister said in the state Assembly in an apparent reference to Bihar chapter of IAS Officers' Association's demand that IAS officers should not be arrested.
Nitish also talked of a "landmark decision" on the stir but did not explain what he meant by that.
Referring to media reports about IAS officers' memorandum to the governor, Kumar said, "The media reports said the association will send a copy of the memorandum to me. I am waiting... I will read each and every word and get the memorandum thoroughly examined in the context of existing legal and constitutional framework. Thereafter, appropriate action will be taken, which will prove a milestone in governance." 
He asserted that no one, not even the state government, could interfere in an ongoing investigation.
Rejecting the demand for a CBI probe by the opposition and the bureaucrats, Nitish said demanding CBI probe had become a "fashion".
Referring to CBI probes into the killing of Ranveer Sena founder Brahmeshwar Singh and murder of journalist Rajdeo Ranjan, he asked, "What facts came out of the CBI probe beyond the findings of the state police's investigation?"
The IAS officers Association has expressed "anger" over the arrest of senior IAS officer Sudhir Kumar saying that they would fight it "tooth and nail" while calling him "the most honest, sincere and competent" bureaucrat.
The Association has demanded that the case be transferred to the CBI in the interest of "independent inquiry, equity, justice and fair play".
The Special Investigation Team (SIT) probing the multi-crore employment scam in Bihar arrested Kumar, the chairman of the Bihar Staff Selection Commission (BSCC) on February 24 for allegedly playing a key role in the scam.
The Association has resolved that none of its members would accept posts of chairman of BSCC and some other organisations which conduct recruitment examinations, and would not take verbal instructions from any high office, including those of the Chief Minister, unless given in writing.
They also met Bihar Governor Ram Nath Kovind and submitted a resolution demanding a CBI probe into the arrest.
The resolution said, "It has also resolved that all further verbal instructions from any high office including the office of the Chief Minister shall not be complied with unless given in writing."