Both Akhilesh, Mulayam unlikely to get 'cycle' symbol for UP polls: former CEC Quraishi
The dramatic split in the Samajwadi Party could lead to freezing of the 'cycle' symbol ahead of the Assembly elections in Uttar Pradesh, former Chief Election Commissioner S.Y. Quraishi said today. In his excerpt with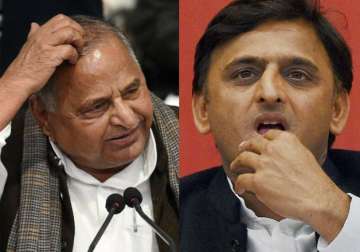 India TV Politics Desk
New Delhi
02 Jan 2017, 17:26:10 PM IST
The dramatic split in the Samajwadi Party could lead to freezing of the 'cycle' symbol ahead of the Assembly elections in Uttar Pradesh, former Chief Election Commissioner S.Y. Quraishi said today.
In his excerpt with a news channel, Quraishi hinted that neither faction of the SP may get the symbol as the procedure in such cases takes quite long.
"Both sides will give affidavits and evidence in support of their claims along with signatures of their supporters to prove they enjoy majority support," Quraishi said.
"These will be verified and this may take four to five months," he added. 
"I don't see this happening before the elections as both sides have strong base and the claims will be contested strongly."
"The (election) symbol will be frozen and ad-hoc names and ad-hoc symbols may be given to both sides. A final decision will come after due process in due course of time," he added.
The battle in the Yadav clan today shifted to Delhi with rival camps planning to approach Election Commission to claim control over the 'cycle' symbol even as SP patriarch Mulayam Singh Yadav postponed the January 5 party convention called by him. 
"Cycle symbol is ours," asserted Mulayam and asked party cadres to focus on winning the assembly elections likely to be announced any day now.
While Mulayam Singh Yadav's faction consisting of Shivpal Yadav and Amar Singh is believed to have been given time for 4.30 PM by the EC, Ram Gopal Yadav could visit the commission to stake claim for the party's name and symbol at 11.30 am tomorrow.