Bulandshahr gang-rape: Azam Khan tenders unconditional apology in SC for his 'political conspiracy' remarks
Uttar Pradesh Minister and Samajwadi Party's senior leader Azam Khan today tendered an conditional apology in Supreme Court for his controversial remarks on the Bulandshahr gang rape case. The apex court accepted Khan's affidavit, saying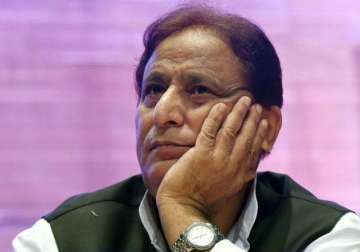 Source: PTI
India TV Politics Desk
New Delhi
December 15, 2016 12:52 IST
Uttar Pradesh Minister and Samajwadi Party's senior leader Azam Khan today tendered an conditional apology in Supreme Court for his controversial remarks on the Bulandshahr gang rape case.
The apex court accepted Khan's affidavit, saying he has expressed "sincere and heartful remorse".
The top court had on December 7  rejected an 'apology' because it felt it "was not an unconditional apology" and asked him to submit a fresh affidavit in the incident.
On November 18, Khan had told the court that he was ready to unconditionally apologise for describing the gang-rape of two women near Bulandshahr in July as "political conspiracy".
The Supreme Court bench of Justices Dipak Misra and Amitava Roy said at last month's hearing that the dignity of women is "uncompromisable" and told the Uttar Pradesh government to ensure that the minor survivor of the gang-rape is admitted in a central school of her father's choice. It also referred to a saying - "words once spoken cannot be recalled."
Khan had stoked a controversy in August 2016 when he said that the Bulandshahar highway rape case could be a 'political conspiracy to malign the image of the Akhilesh Yadav-led SP government in Uttar Pradesh'.
The man, whose wife and daughter were gang-raped on a highway in Bulandshahr, had on August 13 moved the apex court seeking transfer of the case to Delhi, besides lodging of an FIR against Khan as well as several policemen.