Close aide of Janardhan Reddy held in driver's suicide case
Bheema Nayak, a senior Karnataka bureaucrat considered a close aide of former Karnataka minister G. Janardhana Reddy has been arrested on charges of abetting the suicide of his driver and money laundering by Mandya Police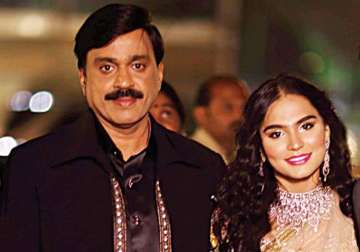 Source: PTI
India TV Politics Desk
Bengaluru
December 12, 2016 14:59 IST
Bheema Nayak, a senior Karnataka bureaucrat considered a close aide of former Karnataka minister G. Janardhana Reddy has been arrested on charges of abetting the suicide of his driver and money laundering by Mandya Police in Kalaburagi.
Five days ago KC Ramesh, who was working with the KAS officer Bheema Nayak, committed suicide alleging that his boss had forced him to be party to mining baron Janardhan Reddy's money laundering scheme.
Nayak and his driver, Mohammed was hiding at his relative's house. Both were arrested on a tip-off and produced before the Mandya JMFC magistrate.
In a 14-page suicide note, Ramesh alleged that Nayak was Reddy's close aide, and had allegedly converted his Rs 100 crore black money into white by taking 20 per cent commission. Ramesh had consumed poison and committed suicide in Maddur in Mandya district.
Ramesh also mentioned in the note that he was being threatened and being made a victim of corruption.
The note mentioned that Nayak had helped Reddy convert Rs 100 crore into new notes for a 20 per cent commission. 
The driver's body was found at a lodge in Maddur, 85km from Bengaluru. The suicide note said Nayak was aspiring to contest the 2018 assembly poll and had reportedly given Rs 25 crore to Reddy's associates.
It has emerged that Nayak had served as Tahasildar of Ballari during the time that is often dubbed "Reddys' regime" (2008-2011) in Ballari. People of Ballari recall that those were "hay days" of the Reddy Brothers, when most officials functioned at the behest of Reddy, then the district in-charge Minister.