Congress demands sacking of Kiren Rijiju over alleged 'Rs 450-crore Arunachal power project scam'
Congress today demanded the sacking of Kiren Rijiju alleging his involvement in the Rs 450-crore Arunachal power scam.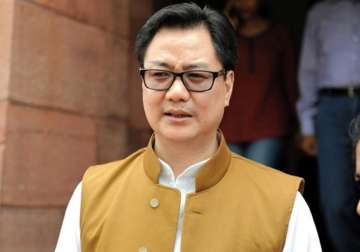 Source: FILE PIC
India TV Politics Desk
New Delhi
December 13, 2016 21:57 IST
Congress on Tuesday demanded the sacking of Union Minister Kiren Rijiju alleging his "involvement" in the 'Rs 450-crore Arunachal power scam' and said the Prime Minister's "tall claims" of bringing transparency have "fallen flat". 
"The role of Kiren Rijiju in this issue is under cloud. Kiren Rijiju has no right to stay in office. He should either be dismissed by the Prime Minister or asked to resign till an independent probe is complete," Congress chief spokesperson Randeep Surjewala said. 
Stating that Rijiju's role in the matter is under cloud, Surjewala also released an audio tape of a purported conversation of his cousin, a contractor in the 600 MW power project, and Rijiju's letter recommending that held up payments be released. 
Surjewala trained his guns on Prime Minister Narendra Modi saying his "tall claims" of bringing transparency have "fallen flat" as had happened with several other scandals in the past including Vyapam, Lalitgate and the Vijay Mallya issue. 
"Mr Modi's claims of transparency and honesty is now under question. People of India are looking at what action he takes on this issue," he said. 
Payments were stopped after a letter by the Chief Vigilance Officer of North East Power Corporation (NEPCO), who conducted a probe into the issue, the Congress spokesperson said and alleged that there is a scam to the extent of Rs 450 crore in the form of false and inflated transportation bills by Goboi Rijiju, who is said to be a relative of Kiren Rijiju. 
"This is a very serious issue. The Prime Minister should speak out on this issue.... 
"If PM has courage of conviction, he must either sack Kiren Rijiju or ask him to resign and conduct a fair and free probe so that truth comes out...Till then, Rijiju should be divested of his post." 
"The Prime in the run up to elections used to say that he will neither do or allow corruption to happen. But there have been a series of charges of corruption that came to light in the Modi government, be it scams in Rajasthan mining, Vyapam scam in Madhya Pradesh or Lalit Modi or Vijay Mallya," he said. 
Targeting the CBI, Surjewala alleged that the premier investigation agency has become a "puppet" in the hands of the Modi government and has not even registered an FIR in the matter despite a 128-page report by the vigilance officer. 
Surjewala also played out a purported audio conversation between Goboi and the NEPCO Chief Vigilance Officer Satish Verma and the opposition party claimed it also had a mention of the goings on that led to pulling down of the Congress government in Arunachal Pradesh. 
He claimed Rijiju's brother was clearly attempting to influence the CVO in the 28-minute tape and was using his Minister brother's name to seek his help in getting the bills cleared and was also enticing him with a promotion. 
"There seems to be a connection with making of these payments and were some of these payments used to buy and sell legislators is a matter that needs to be seriously probed," he said. 
Alleging that "inflated" bills were put up for bringing boulders for the dam construction, he said some of the huge boulders were shown to be carried on scooters, motorcyles and cars by a single driver at the same time. 
Rejecting Congress' charge of his complicity in the alleged scam, Rijiju said he had only forwarded a memorandum received from "petty contractors" from his village to Power Minister Piyush Goyal on November 4, 2015 to get their petition considered on a priority. 
"I have written the letter to the Power Minister after I received representations from some people in my constituency in Arunachal West regarding pending bills. I have done no wrong and there is no corruption." 
Peeved at the allegations, the Minister said, "Those who planted the story will be beaten up with shoes when they will come to our area." 
He also denied that Goboi Rijiju was related to him, saying, "Among tribals in a village, everybody is a cousin. He is not related to me by blood. I have no brothers. Both my elder and younger brothers have expired."
The controversy erupted over news reports that the Chief Vigilance Officer of North Eastern Electric Power Corporation (NEEPCO) Satish Verma, an IPS officer of Gujarat cadre who probed the Ishrat Jahan encounter case as part of the Special Investigation Team, had sent a report to the CBI, CVC and the Power Ministry highlighting alleged corruption in construction of two dams as part of the 600 mw Kameng Hydel project. 
In his report, Verma was said to have named Kiren Rijiju and Goboi Rijiju, who he claimed was the minister's cousin, while alleging an "elaborate conspiracy" involving contractors, NEEPCO officials and the West Kameng district administration to defraud the state-run company and the government of funds that "may extend up to Rs 450 crore". 
Power Minister Piyush Goyal's ministry came to the defence of Rijiju and said payments to a contractor of power plant in Arunachal Pradesh were released even before the minister forwarded a representation for the same. 
Dubbing allegation of Rijiju using his influence to clear bills as "unsubstantiated, false and baseless", the ministry said the vigilance officer S C Verma, who alleged corruption in the construction of two dams for NEEPCO's 600 MW Kameng Hydro Electric Project in Arunachal Pradesh, had himself authorised release of substantial payments to the contractor. 
The Ministry in a statement said Rijiju had on November 9 last year forwarded a representation of local inhabitants of his constituency, complaining about the stoppage of payments to the sub-contractor of Patel Engineering Ltd for transportation of boulders/sand. 
(With PTI inputs)