'Dance naked': Manohar Parrikar's latest advice to his critics
Known for his unrestrained statements, Defence Minister Manohar Parrikar has now offered a piece of advice for his critics that may not go down well with them. In a stern critique of a section of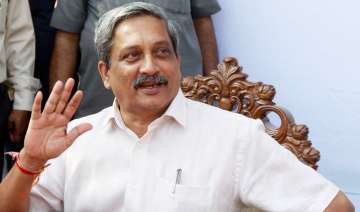 Source: PTI
India TV Politics Desk
Panaji
December 21, 2016 9:56 IST
Known for his unrestrained statements, Defence Minister Manohar Parrikar has now offered a piece of advice for his critics that may not go down well with them.
In a stern critique of a section of the Goan media, Parrikar said his advice to those who blabber needlessly was to take off their clothes and dance naked to get publicity.
Parrikar, who attended a Bharatiya Janata Party meeting in Sattari sub-district in north Goa, located 40 km from Panaji, was speaking on Monday vis-a-vis the limits of criticism.
"I still remember in 1968 during the Watergate issue, he (an editor) had written a large editorial advising (Richard) Nixon. Now, how could an editorial written by him in Marathi reach Nixon? He is in America. 
"Some people do not understand their limits. They keep blabbering. I have some good advice for them. Remove your clothes and dance naked (kapde kadha ani nagde nacha). 
"One will get even better publicity," Parrikar said, while referring to an editor of a vernacular newspaper here.
"I give one advice to those who abuse to get publicity. There was a newspaper here. It is still there. I will not take its name. It had an editor.
"He was an international level editor, he was brought here in his old age. His newspaper had a sale of 1,000..." the former Goa Chief Minister said.
Earlier, Defence Minister Manohar Parrikar have made several contrasting statements on the issue of surgical strikes. Parrikar said that the current government is the first one to carry out surgical strikes and there have not been any surgical strikes in the past. 
He raked up the issue despite PM Modi's whip to partymen to refrain from speaking on it.
Parrikar first stated that he would take part credit but the credit goes to PM Modi for his decisive action and the army. Then he changed his statement saying the credit entirely goes to Army and 127 crore people of the country.
Parrikar had also taken a jibe at actor Aamir Khan as he raked up his remark about leaving the country and described it as "arrogant".
"One actor had said that his wife wants to live out of India. It was an arrogant statement. If I am poor and my house is small, I will still love my house and always dream to make a bungalow out of it," he had said, without naming Mr Khan.
In an oblique reference to the alleged anti-national sloganeering at JNU earlier this year, Mr Parrikar said those who speak against the nation need to be taught a lesson by people of this country.
"How come people get guts or courage to speak against the country? Such people who speak against the country need to be taught a lesson by the people of this country," he added.
IANS inputs