Day 1 to Day 74: A glance at Jayalalithaa's battle for life
Tamil Nadu Chief Minister J Jayalalithaa, who is currently battling for life at Chennai's Apollo Hospital, was admitted on September 22 after she complained of fever and dehydration. Apollo hospital, which had been treating her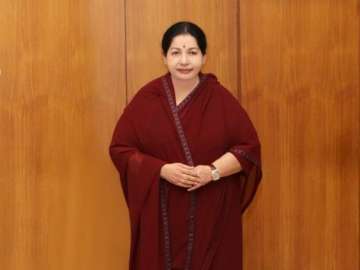 India TV Politics Desk
Chennai
December 05, 2016 19:32 IST
Tamil Nadu Chief Minister J Jayalalithaa, who is currently battling for life at Chennai's Apollo Hospital, was admitted on September 22 after she complained of fever and dehydration.
Apollo hospital, which had been treating her since 74 days, kept issuing bulletins on her health status from time to time. 
In the initial days, it said that she was being treated for infection with respiratory support, among others, and will soon be fit enough to return home.
What followed next was the series of updates by the hospital and the AIADMK that said that the 68-year-old is on the road to recovery or has recovered and will be discharged.
However, the absence of a single evidence to prove that Jayalalithaa was doing better led to all sorts of speculations.
Presently, Jayalalithaa has been kept on special life support system after she suffered a sudden cardiac arrest on Sunday, hours after AIADMK's announcement that she has recovered enough to return home.
While the entire country is praying for her good health, here's a list of updates on the Chief Minister's health since September 22, 2016:
September 22: Jayalalithaa was admitted to Apollo Hospital, Chennai for fever and dehydration
September 24: Apollo hospital said the Tamil Nadu Chief Minister is on 'normal diet'
September 29: The hospital said Jayalalithaa needs just few more days to recuperate
October 1: Shunning negative rumours about her health, AIADMK said she is healthy and performing official duties
October 2: Hospital approached London-based lung specialist Dr Richard Baele for expert opinion
October 6: An expert team from AIIMS reached Chennai for further treatment
November 3: Apollo Hospital said Jayalalithaa has recovered completely
November 13: In a signed letter, the Chief Minister expressed her wish to get back to work
November 19: Jayalalithaa shifted out of ICU
December 4: AIADMK said she is fit enough to return home, but suffered cardiac arrest later
December 5: Jayalalithaa put on special support system for heart and lungs and remains to be critical