Decoding Ram Gopal Yadav: From Mulayam's go-to man to one who planned his ouster
Ram Gopal Yadav, known as Professor saab in his party and family, was once Mulayam Singh Yadav's go-to man on whom he relied for all important decisions.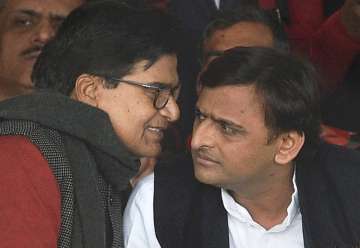 Source: PTI
Ahamad Fuwad
New Delhi
January 02, 2017 19:18 IST
On Friday, minutes after he was sacked by Samajwadi Party supremo Mulayam Singh Yadav for six years, Ram Gopal Yadav said that "Netaji was not aware of the party constitution."  
The statement spoke of Ram Gopal's confidence in his knowledge of the bylaws of the Samajwadi Party's constitution, which he was instrumental in drafting of.   
Mulayam's action of suspending his cousin and son Akhilesh Yadav came after Ram Gopal, as party's General Secretary, had called a meeting of the National Executive.  
Two days later, on January 1, 2017, Ram Gopal declared Akhilesh the national president of the Samajwadi Party, upstaging 'Netaji', the founder of the socialist party.   
When Ram Gopal had called the national convention of the party, he knew of the ramifications of his words and actions. He knew it would infuriate Netaji, he knew it might lead to his expulsion but he still went ahead with it.  
For the simple reason - he had already charted out a plan to wrestle the party from Mulayam.  
The 'Akhilesh faction', especially Ram Gopal, knew that the incumbent Chief Minister may not have much say in ticket distribution in upcoming polls if Shivpal remained the state unit president and Mulayam would not remove his trusted brother from the post. So, they decided to stage a coup and remove Mulayam. 
But the script of this coup was written much before January 1, 2017.  
Ram Gopal, known as "Professor saab" in his party and family, was once Mulayam's go-to man on whom he relied for all important decisions. Samajwadi Party's face in Delhi, Ram Gopal has been instrumental in all party decisions - from distributing tickets to making key organisation appointments.  
It was Ram Gopal who became the roadblock in unifying the erstwhile Janata Dal before Bihar elections. Ram Gopal had said that the move would have been like "signing a death warrant." 
When the infighting in SP came out in open after Akhilesh sacked two ministers close to Shivpal, Ram Gopal landed in Lucknow and held a closed-door meeting with the Chief Minister at his official residence.  
He supported his nephew saying it was the prerogative of the CM to take these decisions and that no one could question the dismissals. He also supported Akhilesh's argument that 'outsiders' were interfering in party and family affairs.
As the feud intensified, he was expelled from the party on the charges that he was "working as part of a conspiracy in collusion with the Bharatiya Janata Party to weaken the SP," as Shivpal Yadav put it.  
Why is Ram Gopal an important man?  
No one could answer this question better than his foe Amar Singh himself. 
After his expulsion, Ram Gopal dared both Shivpal and Amar Singh to speak against him in public and come out unscathed. 
After Ram Gopal's veiled threat, Amar Singh said, "Ram Gopal is intelligent and strong. He is intelligent, that's why I was forced to leave the party. He said earlier too that he got me sacked from the party and will do the same in the future. He is very powerful as well because he started his career in politics from Chambal. When there was a danger on Charan Singh, Ram Gopal Yadav used to carry a carbine to protect him," Singh said.  
"He is a person who has used the carbine as well as the pen. I have two young daughters, and right now, I am scared after Ram Gopal Yadav's threatening statement," he had said. 
But Ram Gopal did not need the power of the gun for staging a coup on January 1. He planned the convention and events before and after it to perfection.  
According to a report by the Times of India, Ram Gopal spent days and months meeting with the Election Commission, and with legal experts to orchestrate the background preparations Akhilesh would need in case a split was necessitated.  
It was Akhilesh's popularity in the state and the party and Ram Gopal's meticulous planning that has successfully unseated a political maestro like Mulayam Singh Yadav from the highest post of the very party he founded.    
Akhilesh may have been chosen as the leader of the party, but he is not yet the leader of the party in Election Commission's eyes; neither does he own the precious election symbol of 'cycle'.  
The onus is on the polls watchdog to decide on who has the claim on the election symbol of cycle and Akhilesh heavily relies on his uncle Ram Gopal, who was instrumental in drafting the constitution of the party 25 years back.