Demonetisation biggest scam of the year: Chidambaram tears into Centre
Stepping up his attack against the central government over the currency ban, former Union Finance minister P.Chidmabaram today dubbed demonetization as the biggest scam of the year and sought its investigation. Addressing the media in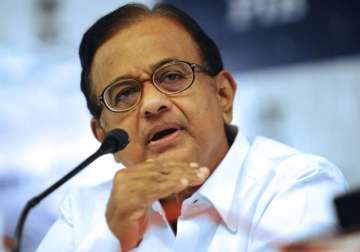 Source: PTI
India TV Politics Desk
New Delhi
December 13, 2016 12:42 IST
Stepping up his attack against the central government over the currency ban, former Union Finance minister P.Chidmabaram today dubbed demonetization as the biggest scam of the year and sought its investigation.
Addressing the media in the capital today, Chidambaram said: "This is the biggest scam of the year and must be investigated. I cannot get Rs 2,000 note, how crores in Rs 2,000 notes found their way to individuals being raided all over the country."
"This is an absurd, thoughtless move, and no one in the world has a good word for it. Every major newspaper and economist has condemned it," Chidambaram added.
Chidambaram also slammed the government saying it should have consulted economists before taking a decision.


"Government should have consulted at least Yashwant Sinha, he is their own man. They could have consulted Manmohan Singh. There are over a 100 officers involved in budget making, till today its never leaked. What secrecy is this?"
On banks being unable to provide cash to customers, Chidambaram asked whether the government made any attempts to calculate how much cash would be necessary.
"What calculations did the government do to say that one can withdraw Rs 24,000 when banks don't have enough cash to dispense? 45 crore people have been affected due to this, who will compensate them?"
Questioning the rationale behind the government's move, Chidambaram asked how demonetisation has benefited the country.