DMK Supremo Karunanidhi re-admitted to hospital with lung infection
DMK President M. Karunanidhi was admitted to Kauvery Hospital again on Thursday night, said an hospital official. His second spell of hospitalisation this month comes after a short interval. In a late night statement, Kauvery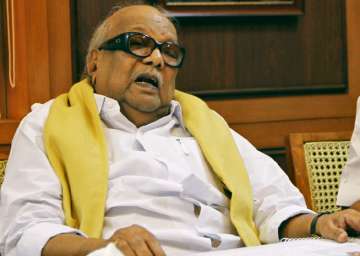 Source: PTI
India TV News Desk
Chennai
December 16, 2016 12:10 IST
DMK President M. Karunanidhi was admitted to Kauvery Hospital again on Thursday night, said an hospital official.
His second spell of hospitalisation this month comes after a short interval.
In a late night statement, Kauvery hospital said Mr Karunanidhi was readmitted after he faced difficulty breathing due to a throat and lung infection. "He is stable and is being treated by a team of doctors," read a statement by S Aravindan, the hospital's executive director.
Karunanidhi's daughter and Rajya Sabha MP from Tamil Nadu Kanimozhi said that his condition was improving.
"He (Karunanidhi) had some lung infection and breathing difficulty, but he is much better now," said Kanimozhi.
It was only on December 7, Karunanidhi was discharged from the hospital after being admitted on December 1 for optimisation of nutrition and hydration.
The nonagenarian leader has been confined to his house due to the allergy and had reportedly stopped meeting visitors and party workers.
His illness comes at a time when Tamil Nadu politics has suffered a leadership vacuum following the death of chief minister J Jayalalithaa at the age of 68.