'Do not defame Indian Army': West Bengal Governor's veiled advice to Mamata Banerjee
Indirectly referring to Mamata Banerjee's recent remarks comparing situation in West Bengal to a 'military coup', the state Governor KN Tripathi today said that nobody should make defamatory allegations against a responsible organisation like Army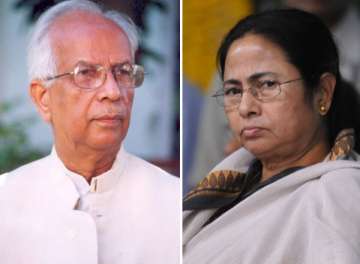 India TV Politics Desk
New Delhi
December 03, 2016 18:03 IST
'Do not defame Indian Army': West Bengal Governor's veiled advice to Mamata Banerjee 
Indirectly referring to Mamata Banerjee's recent remarks comparing situation in West Bengal to a 'military coup', the state Governor KN Tripathi today said that nobody should make defamatory allegations against a responsible organisation like the Indian Army. 
"Every person should be careful in making allegations against a responsible organisation like Army. Don't let down the Army. Don't defame the Army," Governor KN Tripathi said.
West Bengal Chief Minister Mamata Banerjee, however, has dubbed Governor Keshri Nath Tripathi's statement as 'unfortunate' and said that  he was speaking in the "voice of Central Government".
"The Governor is speaking in the voice of Central Government! He was not in the city for about 8 days," she said in a statement.
"Before making statements, all details should have been checked. It is very unfortunate", she added.
On Friday, Union Minister of State for Home Affairs Kiren Rijiju had criticised Mamata Banerjee for dragging the Army into controversy by projecting their routine exercise in the state as something sinister.
"IndiGo pilots aren't al-Qaida aides to take (their) own lives to kill Mamata ji and India isn't Pakistan to have army coup. So keep Army above politics," Rijiju  tweeted yesterday while referring to allegations of threat to the TMC supremo's life due to delay in landing of her IndiGo flight despite reported technical glitches.