Double MNREGA wages; deposit Rs 25,000 in account of BPL families: Rahul Gandhi puts a slew of demands before PM Modi
Congress vice-president Rahul Gandhi today once again lashed out at Prime Minister Narendra Modi over demonetisation drive saying 'he has caused inconvenience to people through this scheme which aims at benefiting only 1 per cent super-rich populatio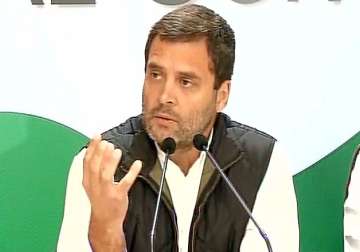 India TV Politics Desk
New Delhi
December 28, 2016 12:57 IST
Congress vice-president Rahul Gandhi today once again lashed out at Prime Minister Narendra Modi over demonetisation drive saying 'he has caused inconvenience to people through this scheme which aims at benefiting only 1 per cent super-rich population of the country'.
" Modiji said that he will perform a yagna against black money and corruption. On December 8, he performed the yagna for 1 per cent super-rich people of the country. In any yagna, someone or something needs to be sacrificed. In Modiji's yagna, common man was sacrificed," Rahul said while addressing party workers at the AICC headquarters here on the occasion of grand old party's 132nd foundation day.
Asking party workers to 'work without fear', he said, "Congress will stand with people and defeat the ideology of Narendra Modi and RSS that spreads anger and hate."
Rahul further demanded that government must come out with list of those who deposited more than Rs 25 lakh in their accounts before demonetisation, and all restrictions on withdrawal of money should be lifted immediately.
Daring Modi to reveal the actual amount of cash recovered since the November 8 announcement of scrapping the Rs 500 and Rs 1,000 currency notes, Rahul said, "Modiji should reveal how much black money has been recovered post November 8? How much economic loss nation has suffered? And how many people lost their lives?"
He even said that 'a sum of Rs 25,000 should be deposited in the account of every woman of a BPL family that has suffered post demonetisation'.
The Congress VP also asked the government to double MNREGA wages, Income Tax, and Sales Tax rebate for small businessmen and shopkeepers.
The 132nd Foundation Day comes in the backdrop of party's apex decision-making body nominating him to the top post, but subject to the official endorsement of President Sonia Gandhi, last month. The occasion also comes at a time when Rahul Gandhi is attempting to assert himself as the leader of the opposition parties, particularly outside the Parliament.
On Tuesday, an opposition meet on the issue of demonetisation led by him fizzled out as key opposition parties like the Left Parties, JD(U), NCP, Samajwadi Party and BSP stayed away from it.
Congress's Foundation Day is being celebrated across all the state units of the party in the country. The party was founded on 28 December 1885, when it held its first session—attended by 72 delegates in Mumbai's Gokuldas Tejpal Sanskrit College under WC Bonnerjee's presidentship.