Election Commission asks parties not to raise religion, caste in poll campaigns
The Election Commission has asked parties to desist from invoking religious sentiments.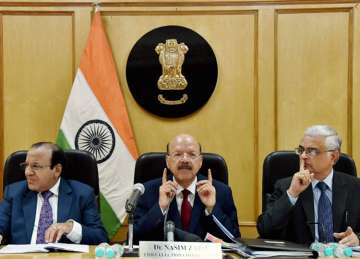 Source: PTI
India TV Politics Desk
New Delhi
March 02, 2017 16:12 IST
Against the backdrop of "inflammatory statements" made by some politicians invoking religious sentiments, the Election Commission has dubbed it as an unhealthy trend and asked them to desist from such remarks that are "against not only the words but also the spirit of law and the model code of conduct." 
In a letter sent to leaders of all recognised political parties, the poll panel advised leaders to observe "self-imposed restraint" while campaigning. 
"ln order to maintain high standards during election campaign, the Commission has, in the past, issued advisories repeatedly to the political parties.
"However, the Commission has noted with dismay that the said advisories are not having the desired result and has recently noted a disturbing tendency of inflammatory statements being made often by political leaders with underlying object of mixing religion with their election campaigns," the letter, dated February 25, said. 
The letter, addressed to the "president/general secretary/secretary of all recognized national and state political parties", states that the Representation of the People Act, 1951, provides that politicians "should desist from making statements, which have the effect of creating disharmony and ill-will between different sections of society on the ground of religion, caste, greed, community and language, as the same disturb peace and tranquillity of the society which is absolutely essential for free and fair conduct of elections".
It also quotes the Supreme Court, which "has also recently expressed its deep concern in the matter of mixing religion and caste with election campaign".
The poll watchdog also noted that sometimes such statements are being made from a place which is not in the state where MCC is in force due to elections.
It said in this electronic age, such remarks easily reach places where election process is one and disturbs the level playing field for other candidates. 
"ln this electronic age, when a statement is made by a politicalfunctionary, it doesn't remain confined to the audience or place where it is made but instantly travels through TV, Social Media or print media even to those places/states where election is going on. lt undoubtedly has the pernicious effect of influencing the minds of voters of the poll bound state," the letter, signed by EC's Senior Principal Secretary R K Srivastava said. 
"The far reaching implications of the statements made thus, disturb the level playing field and often adversely affect the peace, tranquillity and harmony of the poll bound areas," the poll watchdog said.
"The commission feels that every responsible citizen and politician should observe a self-imposed restrain feels that every responsible citizen and politician should observe a in his/her public utterances/speeches/interviews, time to refrain etc., during erection from making such statements," it said.  
Urging parties and leaders to "reverse the trend", the Commission said such speeches indicate an "unhealthy trend" which is a cause of concern.
"The political leaders need to ensure that nothing in the statement may be construed as mixing of religion and caste etc with their election campaigns or having effect of causing mutual hatred, disharmony or ill will," the commission said. 
"The commission once again calls upon all the political parties and political leaders desist from making such to of law and statements which are against not only the words but also the spirit the MCC, even at places where elections are not being held since it will have an undesirable impact herd since it wi, have an on the mind of erectors of the poll bound states/areas," it said. 
The letter comes at a time when the campaigning in poll-bound Uttar Pradesh has largely centred around religious and caste overtones.
Prime Minister Narendra Modi, at a rally in Fatehpur on February 19, accused the Samajwadi Party government of discriminating on grounds of religion saying, "If a village gets a kabristan (graveyard), it should get a shamshaan (cremation ground) too. If there is electricity during Ramzan, there should be electricity during Diwali too. If there is electricity during Holi, there should be electricity during Eid too." 
A few days later, BJP president Amit Shah came up with the 'KASAB' acronym to describe his party's rivals "Ka se Congress, Sa se Samajwadi Party aur B se BSP (KA for congress, SA for Samajwadi Party and B for BSP)."
BSP chief Mayawati on Saturday said, "Muslims need to vote en masse for the BSP… if Muslims vote for the BSP, the BJP will get a setback and it will not be able to come to power in the state".