End of an era: Jayalalithaa, AIADMK chief and six-time Tamil Nadu Chief Minister, passes away of cardiac arrest
Tamil Nadu Chief Minister J Jayalalithaa, who ruled the state for over 15 years, passed away on Monday at Chennai's Apollo Hospital after suffering a cardiac arrest on Sunday.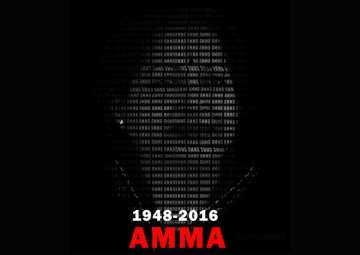 Source: TWITTER
India TV Politics Desk
Chennai
December 06, 2016 17:32 IST
Tamil Nadu Chief Minister J Jayalalithaa, who ruled the state for over 15 years, passed away on Monday at Chennai's Apollo Hospital after suffering a cardiac arrest on Sunday. 
She was declared dead at 11:30 am on December 5, 2016, Apollo Hospital said in a statement. 
"It is with indescribable grief, we announce the sad demise of our esteemed honourable chief minister of Tamil Nadu Puratchi Thalaivi Amma at 11:30 pm today (05.12.2016)," the hospital said. 
She had been admitted in the city's Apollo Hospital since September 22 this year after she complained of fever and dehydration. 
The 68-year-old AIADMK chief's health deteriorated yesterday as she suffered a cardiac arrest, hours after her party said that she had fully recovered and would be returning home soon.
Her death has left a huge vacuum in the state and her party. 
Uncertainty prevailed ever since she was admitted in September as huge secrecy was maintained around her health. Party leaders maintained that she was recovering and Apollo put out regular health updates using generic terms and literally revealing nothing. 
Allegations of misinformation were also made against Apollo Hospital. Confusion, misreporting and speculations followed as the hospital and her government tried to block any actual information on her health coming out. 
The Police went on to a lodge dozens of FIRs and several people were arrested for "spreading rumours" of Jayalalithaa's death.  
M Karunanidhi, chief of Tamil Nadu's main opposition party the DMK, had demanded that a picture of the Chief Minister should be released to "put an end to rumours." 
As her conditioned worsened and the government was left virtually without a leadership, all of her portfolios were transferred to Finance Minister OP Panneerselvam, making him the de-facto Chief Minister. 
However, in ensuing weeks, the hospital and AIADMK said that there was a gradual improvement in her health and she had even started speaking. Just on the day she suffered cardiac arrest, her party had said that she had recovered and would soon return home. 
High drama ensued on Monday after local media reported that Jayalalithaa had passed away in the evening. Though there was no official confirmation, the party flag at AIADMK headquarters was lowered to half mast. 
Soon after the reports, violence ensued outside the Apollo Hospital with as the the supporters started stone pelting at the hospital building.  
However, the hospital denied the reports of her death and said that a "large team of doctors from Apollo and AIIMS continue to provide all life saving measures."
Well wishers and supporters of Jayalaithaa went into mourning as soon as her death was announced. 
Jayalalitha, born in 1948, began her career as an actress in South Indian films and joined politics in 1982. She was mentored by Tamil superstar and AIADMK founder MG Ramachandran. 
MGR and Jayalalitha appeared in more than 28 films together. 
She took over the reins of the party after MGR passed away in 1987. 
Her rise to power was not easy as MGR had not named a political heir and the party was left divided after his death with one faction headed by his widow, Janaki Ramachandran and other by Jayalalitha. 
Janaki was made Chief Minister on January 7, 1988, after she won the confidence motion in a voting marred by allegations of foul play. 23 days later, on January 30, her government was dismissed by the Union government led by Rajiv Gandhi. '
Jayalalitha, then 38, had alleged that she was assaulted - hit on the forehead by MGR's wife Janaki Ramachandran's nephew, Deepan, when she tried to get on to the gun-carriage bearing MGR's body at the start of the funeral procession. 
In the elections that were held a year after Janaki's government was dismissed, Karunanidhi's DMK emerged victorious.
Jayalalithaa became the first woman to become the Leader of the Opposition in the Tamil Nadu Assembly and subsequently unified the AIADMK restored the "two leaves" symbol, which had been frozen by the Election Commission following the split.
She first became the chief minister of Tamil Nadu in 1991. She had since served six times as the Chief Minister of the sate. 
During the years out of power, Jayalalithaa had to face a number of criminal lawsuits related to her first-term rule, mostly dealing with embezzlement and monetary fraud.
In 2001, a special court convicted her of criminal breach of trust and sentenced her to five years of imprisonment, following which she was prohibited from contesting elections. 
In 2003, however, the Supreme Court acquitted her in the specific case for lack of conclusive evidence to convict her.  
O Paneerselvam, a close aide of Jayalalitha, became the chief minister, vacating the chair for her in 2003. She again became the CM of the state in 2011.
In 2014, Jayalalithaa suffered another major blow as she was jailed in the disproportionate assets case. However, an acquittal in 2015 paved way for her to become the Chief Minister for the fifth time.
Over the years, Jayalalithaa acquired a cult following in Tamil Nadu with many revering her as 'Amma' (mother). Gathering of lakhs of people at rallies during campaign in 2016 assembly elections was a testimony to her popularity. 
When she was sent to jail after her conviction in 2014, an atmosphere of mourning and loss prevailed in the state with some people even committing suicide.