Fight between 'Ramzada' and 'Haramzada' in Bengal: BJP's Dilip Ghosh
Bengal BJP President Dilip Ghosh today triggered a by describing the Ram Navmi celebrations in the state as a fight between Ramzada and Haramzada.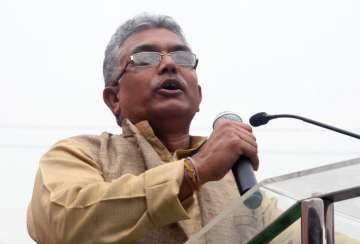 India TV Politics Desk
Kolkata
April 06, 2017 0:11 IST
Bengal BJP President Dilip Ghosh, often in news for making controversial statements, triggered a fresh controversy on Wednesday by describing the Ram Navmi celebrations in the state as a fight between "Ramzada" (one born of Lord Ram) and "Haramzada" (illegitimate- born).
Ghosh's comments came on a day the Rashtriya Swayamsevak Sangh (RSS) organised Ram Navmi celebrations on a grand scale in West Bengal but faced strident criticism from Chief Minister Mamata Banerjee for "appropriating festivals" and trying to divide people.
"Ram belongs to the entire world. We believe Ram is there in all the creations. One who is afraid of Ram, Ram does not belong to him," Ghosh said. 
"Here (in Bengal) there is a fight going on between 'Ramzada' and 'Haramzada'. It is a test to decide who is on the side of Ram, and who is not," Ghosh, a veteran RSS hand, said while leading a Ram Navmi rally in his constituency Kharagpur of West Midnapore district.
His comments are a virtual echo of Union Minister of State Sadhvi Niranjan Jyoti's remarks at a rally ahead of the Delhi assembly polls in late 2014 where she told voters to choose between "Ramzadon" and "Haramzadon".
The ruling Trinamool Congress, which organised Hanuman worship and brought out Ram Navmi processions of its own to counter the BJP during the day, reacted sharply.
"This gentleman has lost his mind in the heat of Kharagpur. He doesn't know what he says. He is polluting our culture. Even people chatting in the drawing rooms use better language. He lacks mental balance," said Trinamool Secretary General and state minister Partha Chatterjee.
Communist Party of India-Marxist legislature party leader Sujan Chakraborty dismissed the BJP leader's comments as "nonsensical" and "uncultured".
"This is also reflective of his unsocial nature," he said.
Ever since taking over as the BJP's state chief in end 2015, Ghosh has time and again being pulled up by political rivals and the civil society for his inflammatory, obscene and misogynist comments.
In the past he has threatened to beat up Trinamool leaders inside their homes, described section of Jadavpur University female students as "shameless" and threatened to "chop off: and "thrash with shoes" pro-Pakistan sloganeers.
He even went to the extent of warning Trinamool leaders that if they did not stop atrocities against his party, "their Lok Sabha MPs will have to go to Delhi, we will see how they return from Delhi."
Less than two months back, he had received all round flak for making a vitriolic personal attack on Nobel laureate and Bharat Ratna awardee Amartya Sen and casting aspersions on his achievements, contribution Aand character.
At a function, Ghosh had said the economist himself did not understand what he has achieved. He also remarked that the present day intellectuals in Bengal "can be bought, sold, threatened and they fall at others' feet".
However, despite widespread protests, Ghosh refused to withdraw his comments.
But the irrepressible leader did have to apologise last December after he said Chief Minister Banerjee "has lost her mind" after the demonetisation of high value currency notes and claimed that the central government could have held her by the hair and thrown her out when she led a demonstration on the issue in Delhi.
As a police complaint was lodged against him, and even his partymen disassociated themselves from the remarks, Ghosh issued an apology.
(With IANS inputs)