Govt approves setting up of 10 indigenous nuclear reactors, to generate 7,000 MW power
The Union Cabinet on Wednesday approved the setting up of 10 indigenous Pressurised Heavy Water Reactors for nuclear power generation.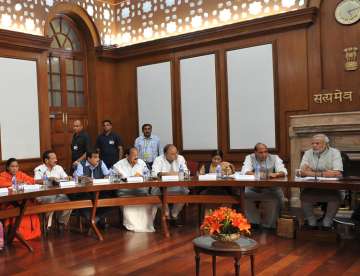 India TV Politics Desk
New Delhi
May 17, 2017 17:03 IST
The government on Wednesday approved the setting up of 10 indigenous Pressurised Heavy Water Reactors (PHWRs) for nuclear power generation.
"The cabinet has approved to install 10 indigenously built PWHRs," Union minister Piyush Goyal said at a press conference after the Cabinet meeting presided over by Prime Minister Narendra Modi.
Goyal, who holds the charge of Power and Coal ministry, said the new PWHRs will generate 7,000 MW power.
India has current installed nuclear power capacity of 6780 MW from 22 operational plants. Another 6700 MWs of nuclear power is expected to come onstream by 2021-22 through projects presently under construction.
"With likely manufacturing orders of close to 70,000 crores to the domestic industry, the project will help transform Indian nuclear industry by linking our goal of a strong nuclear power sector with our indigenous industrial capacities in high-end technologies," a statement by the government said. 
"It is expected to generate more than 33,400 jobs in direct and indirect employment. With manufacturing orders to domestic industry, it will be a major step towards strengthening India's credentials as a major nuclear manufacturing powerhouse," it said. 
The statement further said, "The Cabinet's decision reflects the Government's commitment to prioritise the use of clean power in India's energy mix, as part of low-carbon growth strategy and to ensure long-term base load requirement for the nation's industrialization. It also supports India's commitment to sustainable development, energy self-sufficiency and bolsters global efforts to combat climate change."
Besides this, the Union Cabinet, chaired by Modi, also approved setting up of Indian Agricultural Research Institute in Assam and four laning of Porbandar-Dwarka Section of NH-8E in Gujarat among others.