Hyderabad HC issues notices on Telangana CM's temple offerings
India TV Politics Desk
New Delhi
15 Mar 2017, 9:53:45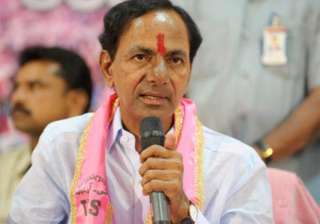 The Hyderabad High Court on Tuesday issued notices to the state of Telangana after hearing a writ petition that challenged the offerings of gold ornaments to temples by Chief Minister K Chandrasekhar Rao.
The petition filed by Dalit activist Kancha Ilaiah and social activist G Ramulu pointed out that the offerings made to various temples at the expense of the Common Good Fund were unconstitutional and requested the court to recover the money from the Chief Minister.
Advocate General K. Ramakrishna Reddy sought four weeks' time for the government to file counter to the notices.
Last month, the Chief Minister along with his family members, ministers and officials had visited Tirupati in Andhra Pradesh and offered gold ornaments worth Rs 5.59 crore at the Sri Venkateshwara and Padmavati temples.
He also visited Veerabhadra Swamy temple in Mahbubabad district of Telangana and offered a golden moustache.
Last year, he had gifted a 12 kg gold crown worth Rs 3.5 crore to Bhadrakali temple in Warangal.
All these offerings to various gods and goddesses were made to fulfil the vow he had taken during the movement for separate Telangana state.
(With IANS inputs)