In Assembly speech, CM Yogi Adityanath asks legislators to cooperate. Here's why
The Chief Minister said that 'whoever is behind this will be dealt with strongly'.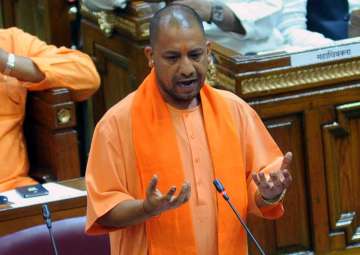 Written by: India TV Politics Desk
Lucknow
July 14, 2017 21:23 IST
The PETN explosive found lying under the seat of a Samajwadi Party MLA inside the UP Assembly is one of the most dangerous plastic explosives available in the black market and preferred by militants as the colourless crystals easily surpass security checks. The packet, which weighed around 150 g, was found close to the seat of Leader of the Opposition Ram Govind Chaudhary, which is close to the podium where the Speaker sits. 
"This is PETN (Pentaerythritol Tetranitrate), this is a dangerous substance. As informed by experts, 500 gm of this explosive is enough to blow up the House," Chief Minister Yogi Adityanath told a stunned House soon after it assembled for the day. 
The Chief Minister said that 'whoever is behind this will be dealt with strongly'. "In an assembly where we should discuss issues of development, we are forced to discuss our own security." "The dog squad failed to detect the explosive that was found by the cleaning staff on July 12," he added. 
Adityanath further urged the MLAs to 'stop blaming each other and cooperate and work together as it is linked to your security'. 
He also chaired a high-level meeting to review security in state assembly complex and announced series of security measures for the country's largest assembly. 
The security at the assembly has been beefed up following the recovery of explosive powder. There are three-layer security at the UP Assembly. While Marshals are accountable for the internal security, state police personnel guard the outer area of the House. The Secretariat has separate security arrangement. 
In total, there are nine entry gates of which three are used for in and out of vehicles. Officials have been asked to check the identity card of each individual visit the House. The government has decided to station quick response teams at every gate of the Assembly. 
At six places, full body scanner machines will be installed and all old and non-functioning scanning machines will be repaired. Only vehicles of MLAs with sticker will be allowed to enter the parking lot. 
The government has also decided to ban mobile phones in the House. MLAs will only be allowed to carry only notebooks. No one will be allowed to enter the premises with bags. 
PETN is one of the most dangerous plastic explosives which is available in black market, and belongs to the same family as nitroglycerin. It is preferred by militant groups because it cannot be easily detected owing to its colourless crystals. Majority of explosive detectors use metal detectors, but PETN can be kept hidden in a sealed container or an electrical equipment and thus can easily surpass security checks. 
Several countries have severe restrictions on purchase of PETN which can be bought in powder form or thin plastic sheet. The substance is legally used by the military and in mining industries where it is used in detonators for detonating cords and mines. PETN can be mixed with other chemicals to form Semtex. 
Experts say PETN does not go off on its own. The explosive needs a secondary detonating mechanism to produce heat or a shockwave, which can detonate the explosive. The substance is stable and safe to handle, but requires a primary explosive to detonate it. PETN substance has been used in number of bombing incidents over the years. 
Apart from reports of PETN explosives from all around the world, the substance is believed to have been used in the 2011 Delhi High Court blast, in which at least 17 people lost their lives.