In death, Jayalalithaa joins club of 16 CMs who died while in power
Tamil Nadu Chief Minister J Jayalalithaa breathed her last on Monday night at the Apollo Hospital in Chennai. She was 68. With her death, she has joined the club of chief ministers who died while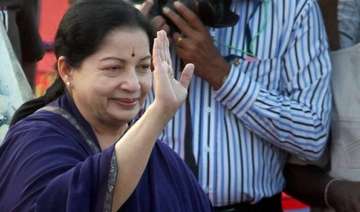 Source: PTI
India TV Politics Desk
Chennai
December 06, 2016 16:05 IST
Tamil Nadu Chief Minister J Jayalalithaa breathed her last on Monday night at the Apollo Hospital in Chennai. She was 68.
With her death, she has joined the club of chief ministers who died while in power. After her mentor MGR and his arch rival CN Annadurai, the DMK founder, she became the third CM in the state and 16th in the country to die while in office.
Prime Minister Narendra Modi condoled the death of the leader saying,"Jayalalithaa ji's connect with citizens, concern for welfare of the poor, the women & marginalized will always be a source of inspiration."
"I will always cherish the innumerable occasions when I had the opportunity to interact with Jayalalithaa ji. May her soul rest in peace," he added.
The 68-year-old AIADMK supremo was readmitted to the CCU on Sunday evening shortly after the party announced that she had been given a clean bill of health by a team of medical specialists.
Here's a list of some of the chief ministers who died in office:
 1) Gopinath Bordoloi (Assam, died 6 August 1950)
Terms as CM: April 1946 (as Prime Minister, undivided Assam) to August 1950 (as chief minister of Assam)
2) Ravishankar Shukla (Madhya Pradesh, died 31 December 1956)
Terms as CM: April 1946 and January 1950 (as Premier of the Central Provinces and Berar); chief minister of Madhya Pradesh state: January 1950 and October 1956; chief minister of Madhya Pradesh (after reorganization): November 1956 to December 1956
3) Sri Krishna Singh (Bihar, died 31 January 1961)
The first chief minister of Bihar, Singh had assumed office in 1946.
4) Bidhan Chandra Roy (West Bengal, died 1 July 1962)
Terms as CM: January 1948 to March 1952 (1st term); March 1952 to May 1957 (2nd term); May 1957 to July 1962 (3rd term, death)
5) Marotrao Kannamwar (Maharashtra, died 24 November 1963)
Term as CM: November 1962 to November 1963
6) CN Annadurai (Tamil Nadu, died 3 February 1969)
Term as CM: February 1967 to February 1969
7) Dayanand Bandodkar (Goa, died 12 August 1973)
Terms as CM: December 1963 to December 1966 (as chief minister of Goa, Daman and Diu territory); April 1967 to March 1972 (2nd term); March 1972 to August 1973 (3rd term)
8) Barkatullah Khan (Rajasthan, died 11 October 1973)
Term as CM: July 1971 to October 1973
9) Sheikh Abdullah (Jammu and Kashmir, died 8 September 1982)
Terms as CM: March 1948 to August 1953 (as Prime Minister of Jammu and Kashmir); February 1975 to March 1977 (1st term); July 1977 to September 1982 (2nd term)
10) MG Ramachandran (Tamil Nadu, died 24 December 1987)
Terms as CM: June 1977 to June 1980 (1st term); 1980 to 1984 (2nd term); 1985 to 1987 (third term)
11) Chimanbhai Patel (Gujarat, died 17 February 1994)
Terms as CM: July 1973 to February 1974 (1st term); March 1990 to February 1994 (2nd term)
12) Beant Singh (Punjab, died 31 August 1995)
Term as CM: February 1992 to 31 August 1995
13) YS Rajashekhar Reddy (Andhra Pradesh, died 2 September 2009)
Terms as CM: May 2004 to May 2009 (1st term) and May 2009 to September 2009 (2nd term)
14) Dorjee Khandu (Arunachal Pradesh, died 30 April 2011)
Term as CM: April 2007 to April 2011.
15) Mufti Mohammad Sayeed (Jammu and Kashmir, died on January 7, 2016( 2nd term)
Terms as CM: Nov 2002 to Nov 2005 (1st term) and Mar 2015 to Jan 2016