Jayalalithaa's death: 77 people died of shock in Tamil Nadu over Amma's demise, says AIADMK
Following the demise of popular Tamil Nadu's Chief Minister J Jayalalithaa, atleast 77 persons died due to the shock after hearing about the illness and later the demise of 'Amma' and a solatium of Rs.300,000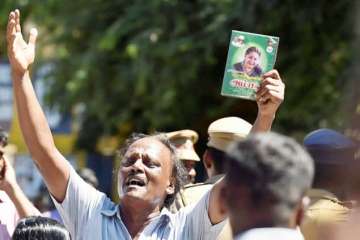 India TV Politics Desk
Chennai
December 08, 2016 0:09 IST
At least 77 people died due to shock after hearing about the illness and later the demise of popular Tamil Nadu Chief Minister J Jayalalithaa and a solatium of Rs.300,000 to their families has been announced by ruling party AIADMK, the party said today.
Jayalalithaa died on Monday evening after suffering cardiac arrest.
In a statement issued here, the AIADMK said a total of 77 persons died after hearing about Jayalalithaa's illness and later on hearing about her death.
According to the statement a sum of Rs 50,000 will be paid to a party cadre who attempted self-immolation on hearing about Jayalalithaa's ill health and to another person who sacrificed a finger after heard about her death.
The party also conveyed its condolences to the family members of the dead.
(With inputs from IANS)