Jayalalithaa's name will remain forever, says political bête noire Karunanidhi
The name of J Jayalalithaa will remain forever, DMK president M Karunanidhi said on Tuesday in a condolence message.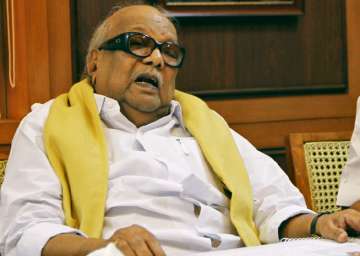 Source: FILE PIC
India TV Politics Desk
Chennai
December 06, 2016 20:28 IST
The name of J Jayalalithaa, who served Tamil Nadu as its Chief Minister for nearly 15 years, will remain forever, DMK president M Karunanidhi said on Tuesday in a condolence message. 
Condoling the death of AIADMK chief, her political rival of nearly three decades, Karunanidhi said, "There is no second opinion in stating that Jayalalithaa had the courage to take decisions for the party's welfare and future. Even though she has passed away at a young age, her name and fame will remain forever." 
Karunanidhi and Jayalalithaa have been long rivals with both sending each other to jails.  
The DMK chief, who has been undergoing treatment at a Chennai hospital for the past few days, had yesterday issued a statement after Jayalalithaa's death. 
"I offer deep condolences on the passing away of Jayalalithaa. Wishes of lakhs of her followers will make her immortal," Karunanidhi said.
His son and DMK treasurer MK Stalin paid floral tribute to Jayalalithaa at Rajaji Hall, where the body was kept for public to pay homage before it was taken for last rites.  
Stalin, who is also the leader of Opposition, was accompanied by former Chennai Mayor M Subramanian, former ministers KN Nehru, I Periasamy and EV Velu.
"We should appreciate that Jayalalithaa has left a mark in whichever position she has been. I, on behalf of DMK president M Karunanidhi, condole the death and convey my condolences to the party cadres," Stalin said. 
Jayalalithaa suffered a massive cardiac arrest on Sunday evening and died late Monday. She was laid to rest withfull state honours on Tuesday evening at Marina beach, near the memorial of MG Ramachandran, her mentor and founder of AIADMK.