Keeping watch on developments in UP, says Governor Ram Naik
Minutes after Samajwadi Party supremo announced expulsion of Chief Minister Akhilesh Yadav as well as general secretary Ramgopal Yadav from the party for six years, Governor Ram Naik termed the developments as an intra-party issue, but said that he w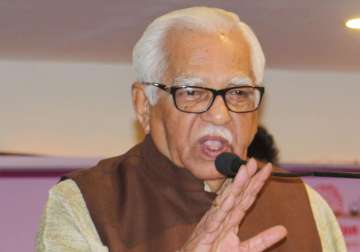 India TV Politics Desk
Lucknow
December 30, 2016 20:59 IST
Minutes after Samajwadi Party supremo announced expulsion of Chief Minister Akhilesh Yadav as well as general secretary Ramgopal Yadav from the party for six years, Governor Ram Naik termed the developments as an intra-party issue, but said that he was keeping a watch.
"I am keeping a watch on the issue," he told PTI here.
Asked if he viewed the developments as a crisis in the ruling party, Naik refused to comment saying, "It is an intra-party issue".
The Governor's role will become crucial in the coming days as Mulayam said at his hurriedly called press conference that the new chief minister will be chosen by the SP.
Flanked by brother Shivpal Yadav, who has been at loggerheads with the chief minister, Mulayam said he had taken the action against Akhilesh and Ramgopal to "save the party" which he had built through hard efforts.
Immediately after the expulsion, Ramgopal dubbed the action against him as 'unconstitutional' as it was taken unilaterally.
"The action taken against me is unconstitutional. He (party President Mulayam Singh Yadav) acted even before we could respond to the show cause notice," he told the reporters.
He also said that calling a meeting of the National Convention by him was as per the party constitution and was inevitable as some of the people at the top "had been indulging in unconstitutional work".
"If party President indulges in unconstitutional acts, then we are left with no option but to call the National Council meeting. I have called the National Council meeting against the unconstitutional activities of the top leaders on demand of the party delegates. All the activities undertaken by the top leadership were unconstitutional including ticket distribution. When President of the party works unconstitutionally, I have all the right as General Secretary of the party to call the meeting," he added.
He also urged party members to attend the convention called by him on January 1.
Uttar Pradesh will go to polls early next year.