Kejriwal's 'Feedback Unit' planned to snoop on LG, AAP leaders and top bureaucrats
Kejriwal's 'Feedback Unit' was shut down by the Lieutenant Governor Anil Baijal after the CBI registered a preliminary inquiry into its setting up without the LG's nod.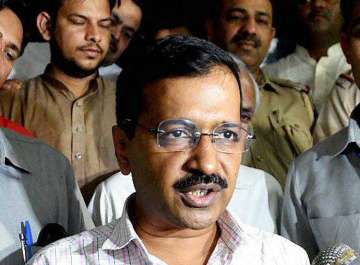 Source: PTI
Abhishek Upadhyay
New Delhi
April 18, 2017 23:43 IST
The Arvind Kejriwal government-appointed "Feedback Unit" that was shut down by Delhi Lieutenant Governor Anil Baijal had plans to spy on the leaders of the CM's own Aam Aadmi Party (AAP), senior officers of the government and even the Lieutenant Governor. 
The unit was shut down by the LG after the Central Bureau of Investigation (CBI) registered a preliminary inquiry into its setting up without the LG's nod.
The unit was created under the Vigilance Department last year to reportedly "gather relevant information and actionable feedback" about officials and departments under the Delhi government.
It was also tasked to lay out traps to catch the bribe taking bureaucrats red handed.
Among those on Kejriwal's target were poet-turned-politician Kumar Vishwas, former LG Najeeb Jung, Delhi's Home Secretary and other senior bureaucrats. Investigations by India TV have revealed that the Delhi government moved swiftly to grant all necessary approvals for setting up this unit. 
The government had roped in a company named Soni Detective & Allied Services Pvt Ltd for the purpose. Interestingly, the Delhi government chose to hire this snooping agency to recruit 17 professionals for schools, hospitals, health care centres and housing sectors. 
A fund of Rs 3.83 crore was allocated for this unit and high-tech equipment were procured with the allotted fund. The equipment could be used for the purpose of surveillance, monitoring and data research. A software which can be used to analyse call data record (CDR) was also bought by the unit. 
There were 70 mobile phones, 75 computers, 22 printers and a digital photocopier among the equipment bought by the feedback unit. 
When India TV visited the office of Soni Detective & Allied Services Pvt Ltd, the staff present there evaded questions and said they had no idea what the company actually did. 
In January this year, a preliminary inquiry had been registered by the CBI after former Lt Governor Najeeb Jung had referred seven matters of alleged irregularity by Delhi government to the agency, which had come to light in the Shunglu panel report.