Kerala Budget focusses on women's safety, proposes public registry of sexual offenders
Giving more emphasis on women's safety, the Kerala government today set aside Rs 68 crore for various schemes to prevent atrocities against women, besides proposing a public registry of sexual offenders. While announcing the measures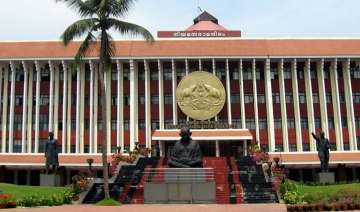 India TV Politics Desk
Thiruvananthapuram
March 03, 2017 19:25 IST
Giving more emphasis on women's safety, the Kerala government today set aside Rs 68 crore for various schemes to prevent atrocities against women, besides proposing a public registry of sexual offenders.
While announcing the measures in the budget presented in the Assembly, Kerala Finance Minister T M Thomas Issac said, "Atrocities against women are a disgrace to the Malayalee community."
Women's safety came under scanner yet again when a Malayalam actress was harassed for two hours inside her car after the accused forced their way into the vehicle in Kochi recently.
Issac said Rs 68 crore has been provided for different schemes to prevent atrocities against women and focus on their rehabilitation. This includes Rs 12 crore for 'Pink Control Room' and self-defence training and Rs 34 crore for awareness campaigns.
Besides, Rs 19.5 crore will be allocated for shelter homes, short stay homes and 'one-stop crisis centre' and Rs three crore for two SOS model homes.
A women's police battalion, women police stations at taluk-level, panchayat-level visits of women police officers, public register for sexual offenders are the other pro-women initiatives in the budget.
On February 23, Governor Justice (Retd) P Sathasivam had said the Kerala government will launch a registry of sex offenders, the first of its kind in the country. It will contain all identification details of sex offenders and would be kept in public domain.
The state Finance minister on Friday said Rs five crore has been earmarked for a special fund for protection and speedy rehabilitation of victims.
A special department for women will be formed in the financial year 2017-18. The social welfare schemes for women, presently under the Social Justice Department, will be shifted to this new department.
He said gender budgeting is being reinstated and the State Planning Board has prepared a document under which allocations for women's development have been divided into two parts.
Part A includes 64 schemes exclusively for women beneficiaries with an allocation of Rs 1,060.50 crore. This amount will come to 5.23 per cent of the total state plan outlay, excluding the plan of local bodies, he said.
Part B includes general development schemes in which a special component for women or beneficiary numbers of women is distinguishable. "This will help in formulating more comprehensive document in the future," he said.
The minister said in the next year's budget, gender audit report will also be placed in the House along with the gender budget statement.
The total outlay involved in 104 schemes is Rs 13,400 crore. Of this, Rs 1,266 crore is allocated exclusively for women. Thus at least 11.5 per cent of the total plan outlay has been set apart for women development.
Budget leaked, claims Opposition; walks out
Issac on Friday ruled out stepping down after the Congress-led opposition demanded his resignation over the leak of his budget speech on social media.
The goof-up occurred after the budget highlights prepared by his office for easy reference reached the hands of the media, a little after Issac began his budget speech.
"This should not have happened. The secrecy of the budget has not affected as 30 documents associated with the budget were intact. The question of resignation does not arise," Issac told reporters soon after he came out of the assembly.
Issac began his speech at 9 a.m and, by 9.50 a.m., proposals in the budget that he was yet to read out were flashed on TV channels and appeared on social media.
By 11.20 a.m., Leader of Opposition Ramesh Chennithala raised the issue, holding up copies of what he said was the budget speech which was leaked on social media. Unhappy with the response of Chief Minister Pinarayi Vijayan, who said the matter would be looked into, the Opposition boycotted the budget and walked out of the house.
Later, speaking to reporters, Chennithala said the sanctity of the budget has been lost and it was now just a bunch of papers.
"We are meeting Governor P. Sathasivam to brief him about this mistake. This budget is not even worth the value of waste paper as budget has a certain amount of sanctity, which has gone out of the window," said Chennithala.
Senior Congress leader V.D. Sateeshan pointed out that the morning's (Friday) edition of vernacular newspaper "Metro Vartha" carries certain tax concession announcements and the words are exactly same as those in Issac's speech.
"It was out at 9.50 a.m. and technically speaking only after the minister completes his speech, should the details of the budget come out. We will seriously look into what went wrong," said State Minister for Parliamentary Affairs A.K. Balan after a meeting with the Chief Minister at state party headquarters.
Former State Finance Minister K.M. Mani, who has presented 13 state budgets, told reporters in the assembly that this budget should be treated as null and void.
"The Chief Minister should ask Issac to quit and then appoint a new Finance Minister, who should present a new budget, as what Issac presented has no value at all as its sanctity has been lost," said Mani.
Lone BJP member in the assembly, O. Rajagopal said: "This goof up could possibly have happened because there is a serious difference of opinion between Vijayan and Issac and they do not have the best of relations."
Veteran legislator P.C. George, currently an independent legislator said he has been a legislator since 1980 and this is one of the best budgets he has seen.
"This leak does not mean anything and in the best interests of the state, Issac should not quit over this because nobody knows about finances like he does. There is not a single suitable candidate who is fit to be the Finance Minister, at a time when the state finances are grim," George said.
(With inputs agencies inputs)