Making Akhilesh CM in 2012 was a 'mistake', says Mulayam Singh Yadav
Mulayam noted that the Congress left no stone unturned to 'ruin' his life.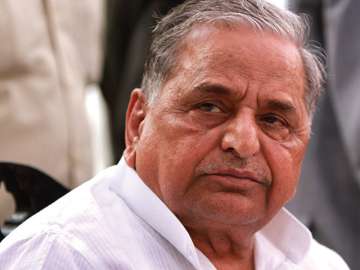 India TV Politics Desk
Mainpuri
May 07, 2017 19:48 IST
Samajwadi Party patriarch Mulayam Singh Yadav today said that it was a 'mistake' to make his son Akhilesh CM of Uttar Pradesh in 2012.
Speaking to reporters here, Singh, who was in the city to unveil a statue of martyr Dharmendra Yadav in Junesa village in Karhal area, said that the party would have fared better if he had taken on the mantle in 2012.
"Had I been the Chief Minister, SP wouldn't have suffered such a major debacle in the recently held assembly election. The party would have achieved the required number to form government in the state," Singh said.
Akhilesh ko CM bana diya, samjha kabhi banega nhi. 224 se 47 seeten, wo bhi jab hum chale gye Jaunpur & Shivpal ke liye chale gye: MS Yadav pic.twitter.com/jUF45vwqaQ

— ANI UP (@ANINewsUP) May 7, 2017
Meri galti thi, humen hi banna chahiye that mukhyamantri, to aaj ye sthiti paida nahi hoti: Mulayam Singh Yadav in Mainpuri pic.twitter.com/OeeNbVAD1T

— ANI UP (@ANINewsUP) May 7, 2017
He also blamed the alliance with the Congress for the party's poor performance in the polls.
"Alliance with Congress is responsible for the present poor state of the party. I had advised Akhilesh not to go ahead with it but he did so. The SP is itself responsible for its defeat and not the people of the state," he said.
He noted that the Congress left no stone unturned to 'ruin' his life.
"Congress left no stone unturned to ruin my life. It (Congress) lodged cases against me and Akhilesh forged alliance with it," he said. 
Hamari zindagi barbaad karne mein Congress ne koi kami nahi rakhi, kitne cases lagaaye. Inhone Congress se gathbandhan kiya: Mulayam S Yadav pic.twitter.com/nic6SnVsCt

— ANI UP (@ANINewsUP) May 7, 2017
To a question on his brother Shivpal Yadav deciding to form a new front, he said 'efforts should be made to strengthen the Samajwadi Party'.
Shivpal, who retained the Jaswantnagar Assembly seat during the recent elections, has said that a secular front would be formed if Akhilesh Yadav did not hand over the reins of the party back to his father Mulayam in three months.
On Shivpal Yadav's comment terming Ramgopal Yadav as 'Shakuni', Mulayam said, "Whatever he (Shivpal) said is true. Attempts were made to ensure his defeat and money was also spent for it."
The SP patron also attacked Prime Minister Narendar Modi and dubbed him as a 'liar'.
"He (Modi) had lied to the people and promised Rs 15 lakh in every account but even Rs 15,000 was not given," he said.
The Samajwadi Party had witnessed a bitter feud between uncle Shivpal and nephew Akhilesh in the run up to the Uttar Pradesh Assembly polls.
Many in the party blamed the power struggle between Akhilesh and his uncle Shivpal for the Samajwadi Party's dismal performance.
The Samajwadi Party contested the polls under Akhilesh's leadership but suffered a humiliating defeat at the hands of the BJP.
Mulayam had earlier blamed Akhilesh for the Samajwadi Party's poor performance in the Uttar Pradesh Assembly elections and said that his son had insulted him.
The SP tally in the assembly elections has come down to 47 from 227 in the 403-member House.
Following a bitter feud between the father and the son, Akhilesh had snatched reins of the party from Mulayam and their fight also reached the Election Commission.