Map in Congress booklet on 3 years of Modi govt's 'failures' labels J&K as 'India occupied Kashmir'; sparks row
The Congress booklet highlighting the "failures" of Narendra Modi government was released by senior party leader Ghulam Nabi Azad in Lucknow.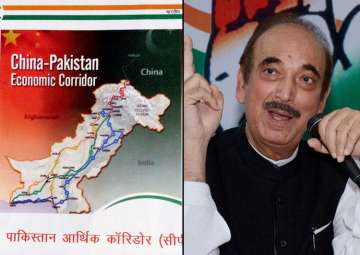 India TV Politics Desk
Lucknow
June 04, 2017 8:59 IST
On the third anniversary of the Narendra Modi government, the Uttar Pradesh Congress on Saturday released a booklet to highlight the "failures" of BJP-led NDA, including those in handling India's relations with Pakistan and China. The move, however, backfired when the map in the booklet labelled the entire state of Jammu and Kashmir as "India occupied Kashmir". 
The Bhartiya Janata Party (BJP) quickly latched on to the faux pas to attack its arch rival, saying it must have gladdened the heart of its "patrons in Pakistan". 
On its part, the Congress party apologised for the "big mistake", admitting that it was its responsibility to ensure that such a map was not released. It, however, claimed the BJP had released a similar map on its website but never admitted to the mistake.
The incident occurred during a press conference of the opposition party in Lucknow where senior party leader Ghulam Nabi Azad released a booklet listing out "failures" of the Modi government during its three years of rule. 
Page 12 of the 16-page booklet titled 'Rashtriya Suraksha par Aanch', which was distributed by the Congress, showed the entire state of J-K labelled as "Indian Occupied Kashmir" in the context of the China-Pakistan Economic Corridor (CPEC). 
Congress apologises for 'printing error'
Congress leader Ajay Maken said it was a "printing error" but admitted that it was his party's responsibility to ensure that such a mistake was not allowed. 
"We apologise for this and will ensure that such a mistake is not repeated," he said. 
Targeting the BJP, he said its website had on March 28, 2014 shown a similar map. He claimed a map which was released the same year in September during the signing of a treaty with China in the presence of Prime Minister Narendra Modi had shown Arunachal Pradesh as part of China. 
The difference between the BJP and the Congress is that "we admit our mistake but they don't". 
"Before raising questions, they should respond to publication of such maps," he said. 
When asked to respond, Uttar Pradesh Congress chief Raj Babbar said, "Jinhone printing kiya hai unhone ispe bayaan de diya hai, bar-bar 4 log alag alag bayaan denge koi matlab nhi banta. (A clarification has been issued by the one who had printed it. There is no sense in four people giving different statements."
BJP attacks Congress
Terming the incident as "highly objectionable", the BJP said the Congress must make its stand clear whether it is with India or Pakistan. 
"Congress which has created the Kashmir crisis must answer and make its stand clear that whether it is with India or Pakistan. The question arises, as today the Congress came out with a booklet, which mentions Jammu and Kashmir as India occupied Kashmir. 
"This is highly objectionable, and it goes on to prove that on one hand the Indian Army is eliminating the terrorists, while the Congress is refusing to believe that Kashmir is an integral part of India," UP BJP spokesperson Shalabh Mani Tripathi said. 
This categorically makes it clear that the language of the Congress and Pakistan is the same. The Congress party should tender an unconditional apology to the country, he said. 
"Border dispute with Pakistan and terrorism in Kashmir is a gift of the Congress. It is quite surprising to see that Congress which has virtually failed on all fronts in the last 60 years, is today giving a certificate to the BJP on terrorism and Kashmir dispute," Tripathi said. 
Union Minister Ravi Shankar Prasad was even harsher in his criticism of Congress and said, "It is not only regrettable but shocking that a senior Congress leader like Azad is projecting a map of Kashmir where it is described as Indian occupied Kashmir. Is Congress speaking the language of Pakistan?" 
"A Parliament resolution says even Pak occupied Kashmir is part of India. By projecting Kashmir as Indian occupied Kashmir the Congress party has not only made separatists happy but also gladdened the heart of its patrons across the border. It is condemnable," Prasad said. 
Shrikant Sharma, a minister in the Uttar Pradesh government and its spokesperson, alleged that releasing such a map amounted to "treason" and Congress chief Sonia Gandhi should apologise for it. 
He said it was not the first time that the Congress was speaking Pakistan's language, alleging its vice president Rahul Gandhi had gone to JNU to sympathise with "traitors" and the party had also questioned the authenticity of cross-LoC surgical strikes to "bring down" the Army's morale. 
UP BJP leader Rakesh Tripathi said, "While the Congress was registering its opposition for Bha Ja Pa (BJP), it has now started opposing Bharat (India) too."
(With PTI inputs)