Narendra Modi emerges winner in reader's poll for Time's Person of the Year 2016
In yet another recognition of his growing popularity across the globe, Prime Minister Narendra Modi has emerged winner in the online reader's poll for TIME Person of the Year, 2016. The 66-year-old maverick beat his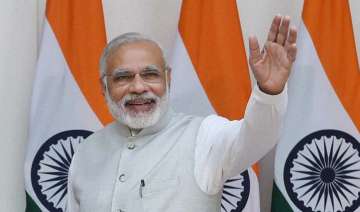 Source: PTI
India TV Politics Desk
New Delhi
December 05, 2016 12:12 IST
In yet another recognition of his growing popularity across the globe, Prime Minister Narendra Modi has emerged winner in the online reader's poll for TIME Person of the Year, 2016.
The 66-year-old maverick beat his competitors that included world leaders, artists and politicians by a considerable margin in the people's survey. As per the magazine, the poll results provide a look at how the world sees these figures. The final decision regarding the Person of the Year, however, rests with the magazine's editors.
The Indian PM got 18 per cent of total vote while the likes of Donald Trump, Barack Obama and Julian Assange has received 7 per cent of 'yes' vote.
Modi was also ranked far ahead of other prominent figures of this year, like Mark Zuckerberg (2 per cent) and Hillary Clinton (4 per cent).
In recent months, Modi saw high approval ratings from Indians, according to a September Pew poll, and ratified the Paris Climate Change Agreement.  Modi performed particularly well among Indian voters as well as those in California and New Jersey.
Modi's recent move to give a go-ahead to surgical strikes and then to demonetise old Rs 500 amd Rs 1000 notes has cemented his image as a leader who does not shy away from taking strong decisions.