Nitish govt 'insider' gave us Lalu's Rs 500-cr mall land deal documents: BJP
BJP, in a surprising revelation, said that the documents exposing the two-acre land deal were provided to it by "someone close" to JD(U) president and Bihar CM Nitish Kumar.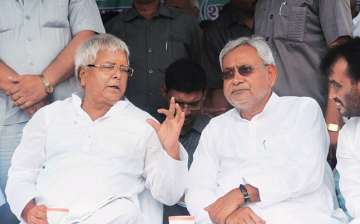 India TV Politics Desk
New Delhi
April 13, 2017 8:04 IST
Days after RJD chief Lalu Prasad admitted that the two-acre land on which Bihar's biggest mall is being constructed belonged to his family, BJP, in a surprising revelation, said that the documents exposing the deal were provided to it by "someone close" to JD(U) president and Bihar CM Nitish Kumar. 
"We are not in office in Bihar. We do not have access to official files. Obviously, an insider from the ruling JD(U) helped us launch the attack on Lalu," Prem Kumar, leader of opposition in the Assembly, was quoted by Times of India, in its report, as saying. 
In several press conferences during the last one week, former deputy CM Sushil Kumar Modi released papers in public domain to "expose" Lalu. 
Releasing the documents to the media, Sushil Modi has alleged that Lalu's family has stakes in the firm that owns a Rs 200-crore land at Patna's Saguna Mor on which a Rs 500-crore mall is coming up. 
He further alleged that the controversial land was "gifted" to Lalu's wife and former CM Rabri Devi by a hospitality firm in 2005 in lieu of the leasing out of railways' two hotels to the firm in 2006 when Lalu was the railway minister. 
Sushil Modi has also claimed that a beer baron also gifted a piece of land to Lalu's family in lieu of the government help to set up a beer brewery firm at Bihta when Rabri was CM. 
Prem, however, refrained from disclosing the name of the Nitish aide who provided the documents to BJP. "Anyone in opposition gets such sensitive documents only through people in power," he said. 
On the other hand, JD(U) termed the "revelation" made by Prem Kumar as baseless. "The matter pertaining to Modi and his role as a whistleblower is between BJP and RJD," said JD(U) MLC Neeraj Kumar. 
To a query on the ownership of the land on which the mall is coming up, Lalu Prasad on Sunday said, "The land belongs to the company in which three persons namely Rabri Devi, Tejashwi Prasad Yadav and Tej Pratap Yadav are the shareholders."
BJP leader Sushil Kumar Modi had on April 7 demanded that Chief Minister Nitish Kumar sack Lalu Prasad's two minister sons for allegedly getting benami properties worth Rs 750 crore transferred in their names. 
He had also alleged that soil from land owned by his family was sold to a zoo controlled by his ministry for Rs 90 lakh without any tender. 
Modi charged Lalu Prasad's minister-son Tej Pratap Yadav of giving contract of Rs 90 lakh for earth filling work in Sanjay Gandhi Biological Park located in the state capital. 
Yadav's department, under whose jurisdiction the Park falls, gave away the contract of Rs 90 lakh to a company without following the tender process for construction of a pathway and beautification work in the park, Modi alleged.
Defending his sons Tejashwi and Tej Pratap, who are both Bihar ministers and accused of graft, Lalu said that they are right to "do business because I don't want them to die in poverty".  
Asserting that all the transactions with regard to transfer of shares have been done as per the laws, Lalu Yadav said the charges were a conspiracy to tarnish the image of his family. 
"All the allegations levelled against my family (wife and two sons) are baseless and absurd. All the transactions have been done in accordance with the relevant provisions of the laws concerned," sais Prasad.