No alliance in UP, Cong 'capable enough' to fight elections on its own: Raj Babbar
The Uttar Pradesh Congress chief Raj Babbar on Sunday ruled out the Congress having alliance with any party in the coming state Assembly elections, saying the party is "capable enough" to fight elections on its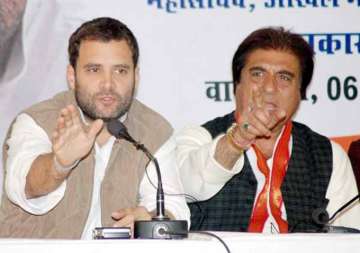 India TV Politics Desk
Saharanpur
December 26, 2016 7:09 IST
The Uttar Pradesh Congress chief Raj Babbar on Sunday ruled out the Congress having alliance with any party in the coming state Assembly elections, saying the party is "capable enough" to fight elections on its own.
"No alliance with any party in the coming Assembly polls in Uttar Pradesh. Congress is "capable enough" to fight elections on its own," Raj Babbar said.
Further, he criticised Prime Minister Narendra Modi's decision to demonetise high-value banknotes, alleging that the decision was taken to benefit a "few of his friends". 
"The money people will now spend will directly benefit those running the 'swiping' empire of the country. The entire nation is in distress because of the note-ban," he told reporters in Saharanpur. 
Every section of the society is facing the brunt of demonetisation, Babbar claimed.
Earlier, senior Congress leader and party in-charge of Uttar Pradesh Ghulam Nabi Azad had said that the rumours over the alliance between the Samajwadi Party, Congress and the Rashtriya Lok Dal (RLD) for upcoming Uttar Pradesh assembly elections as "completely baseless".
"It is completely baseless. None of it has ever taken place. No discussions have taken place on the alliance and when the discussion has not taken place, then, there is no chance of seat distribution as well," Ghulam Nabi Azad said.
According to media reports, Congress, SP and RLD have agreed for a pre-poll alliance for upcoming Assembly elections in UP.
These reports suggested that the Samajwadi Party will contest on 303 seats while the Congress and Ajit Singh's RLD will field candidates in 78 and 22 constituencies respectively.
(With PTI inputs)