'No political patronage to criminals' says Yogi as Opposition attacks him for 'law and order failure'
Criminals will not enjoy political patronage and would not be allowed to go scot-free, Chief Minister Yogi Adityanath told the UP Assembly today.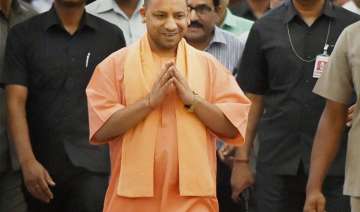 Source: PTI
PTI
Lucknow
May 16, 2017 21:31 IST
Criminals will not enjoy political patronage and would not be allowed to go scot-free, Chief Minister Yogi Adityanath told the UP Assembly today where opposition parties attacked the government claiming that the law and order situation had worsened. 
Leader of Opposition Ram Govind Chaudhary (SP) alleged the state was "burning" as the opposition parties cited the gunning down of two jewellers in Mathura yesterday and other incidents to attack the BJP-led government. 
Terming the incident in Mathura as a "serious issue", Adityanath said that he had instructed the police to take stern action. The DGP will will visit Mathura tomorrow, the chief minister said during the Zero Hour. 
"There will be no discrimination on the basis of caste, creed and religion on the law and order front....A time frame has been set for solving the cases," he said. 
Taking offence at Chaudhary's remarks, Adityanath said it was unbecoming of him to claim that the state was burning. 
"There is no such thing as what you are saying," he said, remining Chaudhary the Jawaharbagh case in Mathura during SP rule in which several people had died. 
Referring to the recent caste clashes in Saharanpur, the Chief Minister said that some groups involved in it had been identified. 
"The name of a former MLA of a political party has also cropped up....The government has decided that there will be no relaxation of rules while dealing with criminals," he said. 
This led to another skirmish as BSP Legislature Party leader Lalji Verma protested claiming a former MLA had been framed. 
Earlier, when House met for the day, opposition members wanted to know the fate of their adjournment notices on the law and order issue. Speaker Hridaya Narain Dixit said he had rejected the notices, as they were not in order. 
Claiming that murder, dacoity and loot had become the order of the day, SP leader Chaudhary demanded admission of the notices for a discussion on law and order issue. Congress and BSP MLAs joined him. 
Dixit pleaded that the Question Hour proceedings be allowed. 
Referring to the chaos in the House yesterday, when Governor Ram Naik was bombarded with paper balls during his address, the Speaker said people were unhappy over the conduct of the MLAs. 
Opposition members however continued with their demand even as Dixit rebuked them saying they should not hold the House to ransom. 
After a while, the members relented and questions were taken up even as the Congress members staged a walkout. 
Adityanath also appealed to the members to allow the Question Hour to be taken up first and said that no criminal will enjoy any political patronage in UP. 
However, a query on law and order again figured during the Question Hour. 
"Everyone in the state knows that there is improvement in law and order," Adityanath said replying to the question by SP member Nitin Agarwal. 
"No one will be allowed to commit crime under political patronage and those committing crime will be treated as criminals. There will be no discrimination," he said. 
When asked by BSP leader Verma about number of incidents of murder, rape, dacoity and loot in the past two months, Adityanath said, "Give us one year. You might not accept here due to political reasons but you and your family must be feeling the change". 
However, dissatisfied, the BSP members staged a walkout. 
SP Legislature Party leader Chaudhary alleged that there was a spurt in crime after the BJP came to power. 
"When a child has polio after birth it's difficult to cure," Chaudhary said apparently referring to fact that the BJP government was elected recently. 
Parliamentary Affairs Minister Suresh Kumar Khanna countered saying that in the earlier regime, it was not a part but the entire body that was aflicted and said the present regime would now cure it. 
Chaudhary and other SP members too staged a walk-out claiming that the ministers were not giving correct replies. 
The law and order issue was again raised by opposition members during the Zero Hour.