No problem with merger of AIADMK factions, says TTV Dinakaran
When asked about last night's revolt, Dinakaran replied: "Revolt against me could have been due to some fears."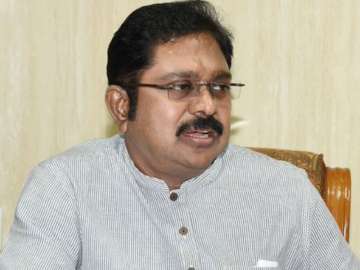 India TV Politics Desk
Chennai
April 19, 2017 13:56 IST
Beleaguered AIADMK (Amma) Deputy General Secretary TTV Dinakaran today said that he has 'no problem with the possible merger of two factions' of the ruling party if it benefits the government and the cadre. 
Speaking to reporters here, Dinakaran, against whom the police have issued a lookout notice in a bribery case, said that he has 'already stepped aside and thus there was no question of resigning from the party post'.
"Will have to consult Sasikala on resigning as she appointed me as Deputy General Secretary. I have stepped aside in the interest of party so question of resigning doesn't arise," he said.
When asked about last night's revolt, he replied: "Revolt against me could have been due to some fears."
Last night, CM EK Palaniswami, considered a close aide of jailed AIADMK supremo VK Sasikala, announcement to keep away her, Dinakaran and family members from the party and affairs of government.
The CM said that he took this decision after consulting the party cadre, who he said were against them.
Meanwhile, Dinakaran has called a meeting of party MLAs and District Secretaries at 3 pm today.