Nongthombam Biren – from national footballer, Congress minister to BJP face in Manipur Assembly elections
56-year-old Biren is a person with multi-faceted talent and has worn different hats throughout his political and personal journey in life.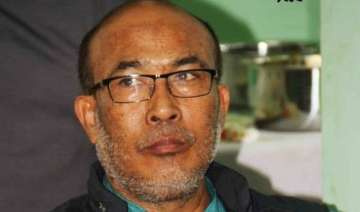 India TV Politics Desk
New Delhi
March 03, 2017 13:15 IST
The BJP's plans to further strengthen its presence in the crucial northeastern state of Manipur received a boost last year when Nongthombam Biren joined the saffron party and emerged as its face in the Manipur Assembly elections slated to be held on March 4 and 8 this month. 
56-year-old Biren is a person with multi-faceted talent and has worn different hats throughout his political and personal journey in life. 
He has the distinction of being a former footballer, founding a daily vernacular named Thoudan besides being part of the Congress government in the state. 
Biren  played football for five years in Jalandhar and Delhi. He  also played for BSF Jalandhar in Durand Cup of 1991. In fact, he even featured in the  finale of Durand Cup in 1991. 
Interestingly, Biren has named the youngest of his three children Zico, after the legendary Brazilian footballer, and calls him Pele at home.
After returning to Manipur, Biren wanted to write whatever he saw in different states of India outside Manipur and founded a vernacular daily Thoudan in late 1990s after selling two acres of land that he inherited from his father. 
In 2001, he sold his newspaper for Rs 2 lakh and decided to try his luck in politics.
In 2002, Nongthombam Biren was elected to the Manipur Assembly, as the Democratic Revolutionary Peoples Party (DRPP) candidate from Heingang constituency and extended support to the Congress government headed by Okram Ibobi Singh.
In May 2003, he was appointed Minister of State of Vigilance in the Ibobi Singh government.
In the 2007 Assembly elections, Biren formally joined Congress party and retained his Assembly seat.
In 2016, however, he revolted against CM Ibobi Singh's "misgovernance" and threatened to join the BJP along with 20 other Congress MLAs unless the Chief Minister reshuffled the cabinet.
Biren's threat worked, Ibobi Singh reshuffled his cabinet and also made Biren vice president of the state Congress.
However, the truce did not last long and Biren formally joined the BJP on October 17, 2016 accusing Ibobi Singh of continuing with "misgovernance" in the state. 
The BJP made him the spokesperson and co-convener of the Election Management Committee of BJP Manipur Pradesh. In the present Assembly elections, he has become the face of the BJP.
According to Biren, one of the main reasons behind his dissociation with the Congress was his inability to get AFSPA (Armed Forces Special Powers Act) repealed in the state. 
Biren, however,  is not worried over the fact that even his new party, the BJP, has not promised repeal of AFSPA in Manipur.
"It is because the situation in Manipur is a bit sensitive… Insurgency needs to be controlled first, then repeal of AFSPA," Biren told The Indian Express. 
He also said that he joined the BJP on certain conditions, for example, allocation of budget on topographical requirements.
"I told Ram Madhav that the budget of the state should be according to topographical need. So if the hill districts need more, they should receive more," Biren told IE.