On Ambedkar's death anniversary, Mayawati slams BJP, RSS for trying to divide society on Hindutva lines
Cautioning people against designs of Bharatiya Janata Party (BJP) and Rashtriya Swayamsevak Sangh, Bahujan Samaj Party (BSP) chief Mayawati today alleged that the saffron party together with RSS was trying to divide society on lines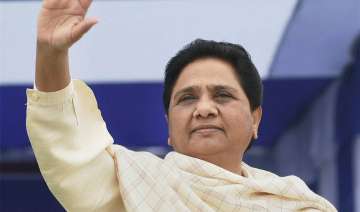 India TV Politics Desk
Lucknow
December 06, 2016 16:57 IST
Cautioning people against designs of Bharatiya Janata Party (BJP) and Rashtriya Swayamsevak Sangh, Bahujan Samaj Party (BSP) chief Mayawati today alleged that the saffron party together with RSS was trying to divide society on lines of Hindutva as they did not have faith in the secular Constitution framed by Ambedkar.
Seeking to woo backwards before the coming Assembly polls, Mayawati, while addressing workers to mark the 61st death anniversary of Babasaheb Bhimrao Ambedkar at Ambedkar Saamajik Parivartan Sthal, a memorial built during her regime as a tribute to the Dalit icon, took credit for implementation of Mandal commission recommendations by the then VP Singh government.
The BSP supremo said that after Singh, the then Prime Minister, implemented the report as per the conditions laid down by her party in return for its support, BJP withdrew its prop bringing down the government.
The BSP president also alleged that Prime Minister Modi belonged to higher caste in Gujarat but in the post-Mandal scenario in 1994, he got his caste included in the OBC list to get backward votes.
"OBC ki vote ki khatir Modi ne apna chola hi badal diya (to garner votes, he became a turncoat)," she said adding that he has encroached upon the rights of the backwards and also betrayed them.
Going all out to woo Muslims, Mayawati said they have got their rights because of Ambedkar who carved out a secular Constitution which was, however, not liked by BJP and RSS.
"Now BJP and RSS want to change the secular Constitution and establish the old order of Hindutvadi caste based system," she said.
She noted that the disputed Babri structure was also demolished on this day in 1992 by saffron forces to send a message that they do not believe in the Constitution framed by Ambedkar.
"It was because of a very petty mindset that the structure was demolished on this day to send a message that they do not believe in the secular Constitution of Ambedkar...BJP and RSS do not want anyone other than Hindus to lead a dignified life and their religious places to remain secure," she said.