'Pain deeper than ocean': Kiren Rijiju tweets jawan's old video slamming Afzal sympathisers
India TV Politics Desk
New Delhi
01 Mar 2017, 20:06:01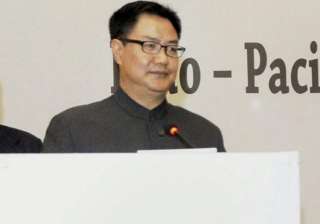 Amid the fresh debate on nationalism following campus violence in Delhi University's Ramjas College, Union Minister Kiren Rijiju today tweeted an Army jawan's video slamming Afzal Guru sympathisers and a section of JNU students. 
The video, which was apparently recorded in December last year, Shriram Gorde slammed alleged sympathisers of 2001 Parliament attack convict Afzal Guru, Jawaharlal Nehru University (JNU) students and critics of the army's September 29 surgical strike in Pakistan Occupied Kashmir (PoK).
"We fight against terrorism, Maoists to keep our country safe. But now it looks like the biggest threat is from those who live in this country but give slogans of Bharat murdabad," Gorde is heard saying in the video. 
"We don't feel sad to see Afzal Guru being hanged. But we are sad to see people chant slogans like "Afzal hum sharminda hai, tere qatil zinda hai,"" Gorde added in reference to a controversial event in JNU last year.
Pain runs deeper than the Ocean. Very sad that our jawans are forced to speak with heavy heart. pic.twitter.com/1AbLScDnor

— Kiren Rijiju (@KirenRijiju) March 1, 2017
"We feel sad when thousands of people come out in support of such people (Guru sympathizers). I feel sad when thousands of people join the funeral procession of a terrorist," he further said. 
The video was shot at an annual weapon display event for schoolchildren organised on December 28 last year, the Hindustan Times reported. 
Gorde is from is from the 9 Maratha Infantry and is deployed at Jamnagar.
Rijiju posted the video with caption- "Pain runs deeper than the Ocean. Very sad that our jawans are forced to speak with heavy heart."
The Minister of State for Home Affairs was in the eye of the storm after tweeting about Delhi University student Gurmehar Kaur's campaign against ABVP. 
"Who's polluting this young girl's mind? A strong Arm Force prevents a war. India never attacked anyone but a weak India was always invaded," Rijiju had tweeted about a video campaign by Kaur advocating peace between India and Pakistan.