Police officer's lynching 'marks new low' in J&K: Rahul Gandhi
The slain officer belonged to Khanyar area in Srinagar's Old City. Khanyar is adjacent to the Jamia Masjid where he was killed.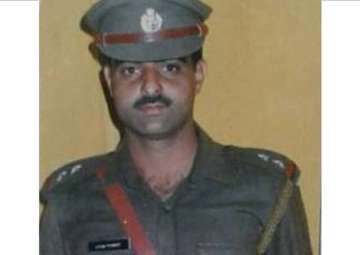 India TV Politics Desk
New Delhi
June 23, 2017 16:13 IST
Congress vice-president Rahul Gandhi today said that the 'failure' of the BJP-PDP alliance in Jammu and Kashmir has 'pushed back the state several decades'. Reacting to the lynching incident of a senior police officer here, the Congress leader said that it marks a 'new low' in the border state which has been facing a new wave of violence for almost a year now.
"The brutal lynching of Deputy SP Md Ayub Pandit marks a new low. Pained beyond words at the horrific incident. Heart-breaking to see Jammu and Kashmir being pushed back several decades because of the complete failure of the PDP-BJP government," he said in a tweet.
The battered body of Deputy Superintendent Mohammad Ayub Pandit was recovered this morning outside the Jamia Masjid in Nowhatta area of the Old City, the very spot where he was set upon by a killer mob the night before. When hundreds were busy in prayers during the holiest night of the Muslim calendar called 'Shab-e-Qadr' at the city's largest mosque, a group of miscreants attacked Pandit who was not in uniform.
The officer was on frisking duty at Jamia Masjid. He was carrying out his duties when he was attacked. The outnumbered officer tried to free himself and fired in self-defence, injuring three of the attackers. But he was overpowered and lynched.
One report said that he had been stripped before he was murdered. He had been outside the mosque for some time and many locals who regularly visited the shrine knew him.
Meanwhile, Chief Minister Mehbooba Mufti said that the 'murder of officer is actually a murder of trust'. "He had allowed his security guards to go home so that they could observe 'Shab-e-Qadr' at their own mosques. He went to perform his duty to protect people whose goodwill he trusted and it is this trust which has been murdered."
"Jammu and Kashmir Police is one of the finest police forces in the country. They exercise maximum restraint while dealing with the law and order situation. I fear what will happen if this police force loses its patience," she added.
The slain officer belonged to Khanyar area in Srinagar's Old City. Khanyar is adjacent to the Jamia Masjid where he was killed. Pandit was posted in the security wing of the police and deployed for frisking visitors to the mosque to ensure nobody entered it with weapons. As part of rules, policemen posted in the security wing do not wear uniform.