Political parties have largest amount of black money, wrong to exempt them: Arvind Kejriwal
Delhi Chief Minister Arvind Kejriwal today said that the Modi government's decision to exempt political parties from disclosing the source of deposited money even if it consists of old demonetised notes of Rs 500 and Rs 1000 denominations is wron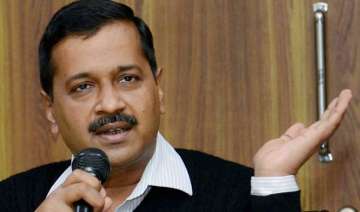 Source: PTI
India TV Politics Desk
New Delhi
December 17, 2016 14:55 IST
Delhi Chief Minister Arvind Kejriwal  today said that the Modi government's decision to  exempt political parties from disclosing the source of deposited money even if it consists of  old demonetised notes of Rs 500 and Rs 1000 denominations  is wrong.
He alleged that the government's decision is a betrayal of the people of India who are waiting in queues to withdraw money from ATMs.
He further said that the largest amount of black money lies with the political parties and therefore it is wrong on part of the government to exempt them from revealing the source.
"Prime Minister Narendra Modi is busy converting the black money of political parties into white. This is a betrayal of the people of India," he said. 

 

"Everybody knows that the political parties have got largest amount of black money. As far as Aam Aadmi Party is concerned, all our income tax returns of last four years are being investigated. We are not afraid and we are showing them all the receipts and vouchers. Why are other political parties including BJP feeling scared? Why should there be no investigation of their Income Tax?" Kejriwal asked.
The Delhi Chief Minister sought setting up of a commission to investigate the sources of funding received by political parties.
He also said that the permission given to political parties for accepting anonymous donations up to Rs 20,000 should be done away with.