Power tussle within SP intensifies, Akhilesh may announce his own list of 167 candidates
An undeclared tussle for power within the Samajwadi Party has begun once again, this time over ticket distribution. With Chief Minister Akhilesh Yadav unhappy over the announcement of names of 325 candidates, overlooking his preferences, reports have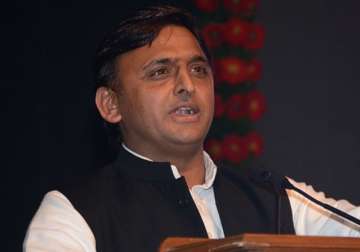 India TV Politics Desk
Lucknow
December 29, 2016 18:29 IST
An undeclared tussle for power within the Samajwadi Party has begun once again, this time over ticket distribution. With Chief Minister Akhilesh Yadav unhappy over the announcement of names of 325 candidates, overlooking his preferences, reports have emerged that he may release a separate list of his own candidates.
According to details available with India TV, the list may include 167 names and all from his faction.
Since there is not enough time left to get a new political party registered with the Election Commission to contest the polls, all candidates will be asked to enter the battleground as an independent candidate, meaning each of them will have to fight on a different election symbol, source in the know said.
The decision is believed to have been taken during today's meet at 5, Kalidas Marg, called by Akhilesh, a day after his father and SP supremo Mulayam Singh Yadav announced the names of 325 candidates for the Assembly polls.
The meeting was attended by MLAs and supporters from Akhilesh's faction. During the meet, leaders expressed their unhappiness over Netaji's (Mulayam) decision to dump their names from the list and go for tainted candidates.
It is said that all leaders who were present at 5, Kalidas Marg, said that party workers and people of state want to see Akhilesh as the CM again and that he should take decisions fearlessly.
Speaking to reports after the meeting, Brijlal Sonkar, MLA from Mehnagar in Azamgarh, said, "We want Akhilesh Yadav to become the Chief Minister again. And in 2019 we will march to Delhi."
Another MLA Ram Govind Chaudhary said, "Now I have only one aim, to ensure Chief Minister is always at the top. I will now only work for you (Akhilesh Yadav). You are my Samajwadi Party."
"He (Chief Minister) told us to prepare for election and be ready to contest," another MLA from Akhilesh's faction told reporters outside the venue of today's meeting.
Several leaders of Akhilesh's faction did not find a place in the list of candidates announced yesterday. Akhilesh had given his own list of 403 candidates to the party chief, who preferred to field more candidates of brother Shivpal Yadav's choice.
Tickets were given to 176 sitting MLAs whereas 53 incumbent legislators have been denied tickets including several Akhilesh's supporters. Few of them are - Dharmendra Yadav, Arvind Singh Gope and Abhishek Mishra.
The ticket from Gope's constituency Ramnagar (Barabanki) has been given to Rakesh Verma, the son of senior Kurmi leader Beni Prasad Verma, who recently made a return to the party aided by Shivpal Yadav.
The list carries names of Sigbatullah Ansari, who is the brother of jailed gangster Mukhtar Ansari, and Atiq Ahmed who faces over 40 criminal cases including of murder and attempt to murder. Akhilesh was vehemently against giving ticket to Sigbatullah Ansari and Atiq Ahmad, who were backed by Shivpal.
Akhilesh was touring Bundelkhand when Mulayam announced the names.
The Samajwadi Party has 224 seats in the present assembly. Uttar Pradesh will go to polls early next year.