Watch: When AAP leaders 'celebrated' Punjab election win even before results came out
The video, shot well before the results were out, shows AAP leader Sanjay Singh and other party members rejoicing what they believe would be a certain win for the party in Punjab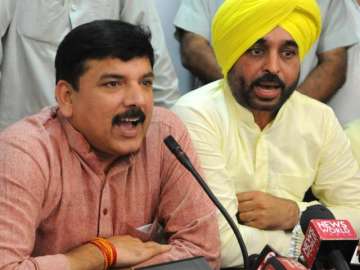 India TV Politics Desk
New Delhi
March 14, 2017 19:03 IST
If you thought that the Aam Aadmi Party's performance in Punjab was anything short of a debacle, this video that shows the hopes the Arvind Kejriwal-led government had pinned on this victory makes the story tragic.
The video, shot well before the results had started to come in, shows AAP leader Sanjay Singh surrounded by other party members rejoicing what they believe would be a certain victory for the AAP in Punjab, a state where the party pumped in all its resources hoping for a win.
"We are watching the results of March 11 live. AAP has already won 100 seats," the video shows Sanjay Singh as saying in a telephonic call with its Punjab leader Bhagwant Mann.
Another leader sitting next to Singh then joins in on the conversation: "Congratulations, Mr Mann on this victory. Will you be a contender for the post of Punjab Chief Minister?"
It is not clear what the response from Mann is but the video shows Sanjay Singh imitating what would be a news broadcast on March 11. "Fresh inputs from Jalalabad seat.. Bhagwant Mann leading by 50,000 votes in 11 rounds of counting," he says to a an applause from those gathered in the room.
One cannot help but feel for the AAP which had bet all its might for a victory in Punjab. The win would have catapulted AAP into a party of national prominence and done a world of wonder to Arvind Kejriwal's ultimate dream of becoming the country's Prime Minister one day.
Sadly, the reality that has dawned upon the party, which had even set up decorations outside Kejriwal's residence on March 11 to celebrate what they believed would be a landslide for the AAP, was tragic.
The AAP had managed to win only 20 seats in the 117-member Assembly. Mann, a sitting MP, contested from the Jalalabad constituency against Punjab's deputy chief minister Sukhbir Singh Badal and may have even been considered for the top role in the state had the AAP fared well.
However, Mann finished at the 3rd spot—behind Akali Dal's Sukhbir Singh Badal and Congress' Ravneet Singh  
Meanwhile, AAP leader Sanjay Singh today clarified that the video was shot on February 4 after the polls had concluded in the state. "What is the harm in having a little fun after the poll process has ended? Had we done well, you would have run the same video praising the jovial atmosphere among the AAP cadre," Singh said.