Rahul Gandhi's charge against PM Modi: Corruption bomb or damp squib?
Rahul Gandhi today alleged that Narendra Modi as Gujarat Chief Minister had taken money from Sahara and Birla groups and demanded an independent inquiry into it.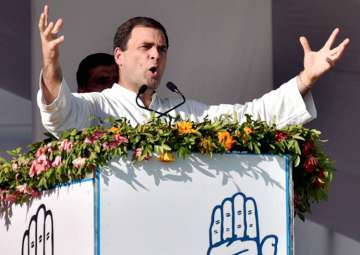 Source: PTI
India TV Politics Desk
New Delhi
December 21, 2016 23:28 IST
Exactly a week after he claimed to have information on the "personal corruption of the Prime Minister," Congress vice-president Rahul Gandhi today alleged that Narendra Modi as Gujarat Chief Minister had taken money from Sahara and Birla groups and demanded an independent inquiry into it. 
The allegations, however explosive, are not new but Rahul made it sound like he was making an "explosive revelation." 
Who made the "revelations?" 
A petition seeking an SIT probe into the evidence gathered in raids at Sahara and Birla groups is already pending before the Supreme Court. 
NGO Common Cause had filed a PIL on the issue in the Supreme Court and a bench headed by CJI-designate Justice J S Khehar last week had refused to take up the matter saying there was no evidence but only allegations against the Prime Minister. 
The bench then asked lawyer Prashant Bhushan to provide evidence before it could decide on whether it could admit the petition. 
The petition was filed by the NGO over a month before Rahul levelled the allegations at a public rally in Gujarat's Mehsana. Common Cause moved Supreme Court for SIT probe on November 15, 2016.
The diaries, as mentioned by Rahul Gandhi, were allegedly recovered during raids at Aditya Birla and Sahara groups offices in 2013 and 2014. 
According to the petition by the NGO, the documents contained evidence of massive bribes paid to chief ministers including the then Gujarat CM Narendra Modi, top politicians and bureaucrats.
One of the documents, the NGO said, contained an entry - 'Gujarat CM' which it has alleged is a reference to Modi.
Arvind Kejriwal's allegations: Shoot and scoot? 
Delhi Chief Minister Arvind Kejriwal, in the assembly on November 17, spoke of the "evidence against Modi" using the same document cited by Common Cause in its petition. 
Inside Delhi Assembly, he alleged that Rs 65.1 crore was paid as bribe to 'Gujarat CM' and 'Ahmedabad Modiji' by two private companies, the Aditya Birla group and the Sahara group.
Rahul Gandhi's allegations: Corruption bomb or damp squib?
Rahul Gandhi just reiterated those allegations and alleged that in the I-T records there are notings of Sahara officials' claims that they had paid Rs 40 crore to Modi in  9 installement between October, 2013 and February, 2014. 
"As per record with I-T, Rs 2.5 crore was given to PM Modi on 30 Oct '13; Rs 5 cr on 12 Nov '13; Rs 2.5 cr on 27 Nov '13; Rs 5cr on 29 Nov '13. Entries showed Rs 5cr given to PM Modi on 6 Dec '13; Rs 5 cr on 19 Dec '13; Rs 5cr on 13 Jan '14; Rs 5 cr on 28 Jan '14; Rs 5 cr 22 Feb '14," Gandhi said.
He then alleged that another record suggests that Birla Group gave Rs 12 crore to 'Gujarat Chief Minister'. 
Supreme Court observation: Not enough evidence to order investigation 
The Supreme Court has said that mere entries made in a diary or on a computer can not be the basis of ordering an investigation. 
During hearing on a plea by the NGO, a bench of Justices J S Khehar and Arun Mishra maintained that ordering an investigation based merely on unverified entries made in a diary or on a computer would have "far-reaching" consequences since "unscrupulous people" could bring the entire world and even the Prime Minister under a cloud by simply recording entries of pay-offs, according to a report by the Indian Express. 
"Who has made these entries? Whose computer was this? Tomorrow, if a man makes entries alleging 100 people have been paid money, should we be initiating inquiry against all of them?" the bench asked Bhushan.
The bench noted, "If we accept what you say, then somebody can tomorrow make an entry that I sent PM this much of money… see how far-reaching this could be. We are not shying away from taking action against anybody but you must have something, even prima facie, to show wrongdoing. We cannot initiate proceedings only because you name a big man. There has to be something."
"If any suspicion arouses our conscience, it is a good suspicion but your suspicion does not do it… this is only insinuation. Show us better material because we are not satisfied at all with this. It is zero for us," the bench said.
The Supreme Court told Bhushan that an investigation can not be ordered "only because you name a big person."
BJP's response: PM 'pure' as Ganga
After Rahul's' Mehsana rally, BJP rejected the allegations as "baseless, shameful, and mala fide" and said that PM is as "pure" as Ganga.
Union minister Ravi Shankar said the Supreme Court has observed that these are "no allegations", and said Rahul levelled the allegations so to divert attention from AgustaWestland scam probe in which names of his family members have cropped up. 
"These are baseless, false, shameful and mala fide allegations. He is a defeated and frustrated person and we understand his travails. People do not consider his party fit to run even a municipality. He is leading his party to disastrous defeats and his leadership is not trusted. 
"The defeated and frustrated Rahul Gandhi is levelling these baseless charges in anger. Names of Congress leaders and his family (members) have cropped up in AgustaWestland probe. It had come up in Italy too. To divert attention from this, he is levelling such false allegations... Narendra Modi is pure like Ganga," Prasad said.