Rajasthan HC pulls up Robert Vadra's firm, directs officials to appear before ED for interrogation
Land deals involving Congress president Sonia Gandhi's son-in-law Robert Vadra is back in the spotlight. Rajasthan High Court has ordered officials of Skylight Hospitality Pvt Ltd, owned by Vadra, to appear before the Enforcement Directorate (ED) for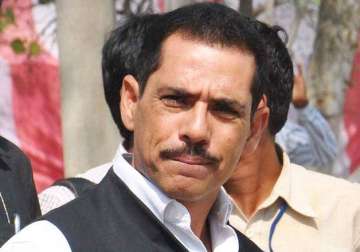 India TV Politics Desk
New Delhi
December 17, 2016 14:35 IST
Land deals involving Congress president Sonia Gandhi's son-in-law Robert Vadra is back in the spotlight. Rajasthan High Court has ordered officials of Skylight Hospitality Pvt Ltd, owned by Vadra, to appear before the Enforcement Directorate (ED) for interrogation and record their statement in connection with a money laundering case. 
According to a leading English news channel, the High Court has asked the company officials to present themselves before the agency between January 4 and 6 next year.
The case pertains to the alleged involvement of the company in a money laundering case related to land deals in Bikaner District.
Justice PK Lohra passed this order while quashing a petition filed by the company which had challenged the ED's earlier summons. 
The court observed that the summons issued by the agency should be honoured instead of challenging the same in the court. 
It, however, asked the ED to interrogate officials in the presence of their counsels.
Earlier in June this year, the ED had served summons on Skylight Hospitality in connection with the money laundering investigations into alleged land-grab cases in Bikaner. It had also asked the firm to submit documents related to purchase of land.
The ED probe is related to alleged fraudulent acquisition of land by some locals and their sale to several companies, including Skylight Hospitality, between 2009 and 2011.